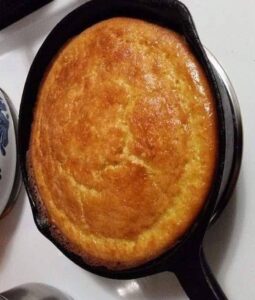 Ingredients:
8 tbsp of unsalted butter.
Half a cup of granulated sugar.
One cup of yellow cornmeal.
Two large eggs.
One cup of buttermilk.
One teaspoon of baking soda.
One cup of all-purpose flour.
Salt, to taste.
Instructions:
Step 1
Before beginning the recipe, be sure to preheat the oven to 375 degrees Fahrenheit.
Step 2
Combine all the ingredients, excluding the butter, in a mixing bowl until you achieve a smooth and creamy consistency.
Step 3
In an oven-safe skillet, set over medium heat, melt the butter.
Step 4
After the butter has completely melted, take the skillet off the heat, and pour the batter into it. Use a whisk to thoroughly combine the batter with the melted butter until well blended.
Step 5
Finally, bake the mixture in the preheated oven for approximately 25-30 minutes or until it turns golden brown and is cooked through.
Tips:
– Use fresh buttermilk for the best results.
– Avoid overmixing the batter.
– Preheat the skillet with melted butter to create a crispy bottom crust.
Variations:
– Brush with honey-butter after baking for a sweet finish.
– Crisp up bacon in the skillet before pouring in the batter.
– Incorporate fresh herbs like rosemary or chives.
Have a nice day!!