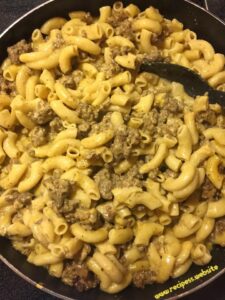 How To Make Hamburger Helper:  
I used probably 2 pounds or so ground beef, brown and while cooking I seasoned with salt, pepper, garlic salt, basil, Adobe, allspice and minced garlic.
Once browned I drain extra grease.Then I added about 2 cups milk and 2 cups water, a little more salt, paprika and a box of large elbows.
I cooked it on medium heat until it started to boil then turned to low and covered, stirring occasionally.
Once noodles were done I added probably about 4 cups of grated cheddar cheese (I'm sorry I didn't measure) and two handfuls of a Mexican blend of cheese (it was in my draw and I needed it gone lol) after stirring it all well and once all the cheese was melted I served!
Enjoy!