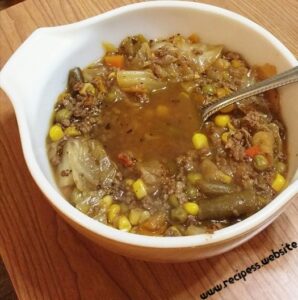 How To Make Hamburger Soup: 
Ingredients:
A pound of hamburger
A bag of frozen mixed vegetables.. use fresh whatever works
I used 3 teaspoons of beef base or bullion works
A pint of water
A little tomato paste
Half a cabbage chopped.
Salt
pepper
A bay leaf
Teaspoon of basil.
Directions:
Cook your meat and put it all in the crockpot and cook on high about 5 hours.
Enjoy.