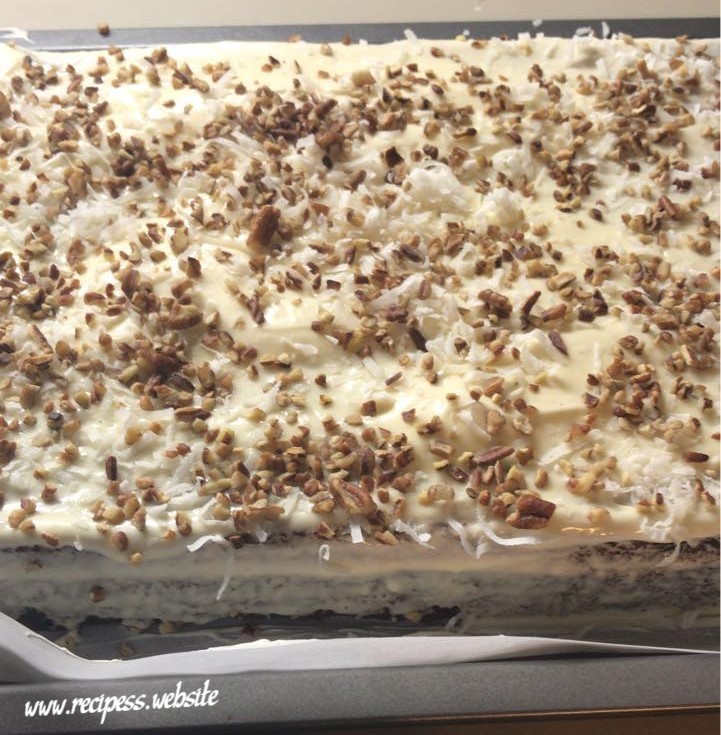 HOW TO MAKE HAWAIIAN PINEAPPLE CAKE?
Served with cream cheese icing and chopped walnuts, this Hawaiian Pineapple Coconut Cake is a mouthwatering dessert. You may serve it as an appetizer at a tropical party, as an afternoon tea, or anytime you feel like a sweet treat from the tropics!
My favorite tastes in food are tropical ones, and this Hawaiian cake recipe is no exception, thanks to the pineapple and coconut in it.
A rectangular baking dish (preferably glass) is used to bake and frost the cake. Because of this, it is easily transportable and ideal for picnics or gatherings. Alternatively, cut it into tiny squares to serve at parties or during a Hawaiian luau, as shown.
It is possible to make this cake without the use of oil or butter, and each piece is overflowing with coconut, walnuts, and pineapple flavor. The cream cheese frosting is light, creamy, and tangy, and it is not excessively sweet like many other cream cheese frostings.
Let's make this cake together!!
TO MAKE THE CAKE, YOU'LL NEED:
350 grams.Of white sugar.
250 grams.Of sifted cake flour.
2 Tsp.Of baking soda
Eggs; you'll need two large-sized.
Canned crushed pineapple with the juice; I used the medium can of 570 grams.
1 Cup.Of sweetened coconut flakes.
1 Cup.Of chopped walnuts.
FOR THE FROSTING, I USED FEW SIMPLE INGREDIENTS:
225 grams.Of soft cream cheese.
115 grams.Of soft unsalted butter.
½ Cup.Of powdered sugar.
2 Tsp.Of vanilla extract.
A pinch of salt.
FOLLOW THESE STEPS AS DIRECTED:
Step 1:
Initially, I prepared a 9″ x 13″ baking pan by greasing it with cooking spray, and I set the temp. of the oven at 350 degrees Fahrenheit.
Step 2:
After that, I combined the flour with white sugar, baking soda, eggs, pineapple chunks, pineapple juice, coconut flakes, and walnuts in a large mixing bowl.
Step 3:
In a large mixing bowl, I combined all of the ingredients by hand until well combined.
Step 4:
Next, I poured the cake batter into a prepared baking pan and baked it for 30 minutes.
Step 5:
Then, I baked for 45 minutes, until completely done, and to test the cake, I inserted a cocktail stick inside and pushed it out cleanly from the center of the cake.
Step 6:
I removed the pan from the oven and allow the cake to cool completely inside it.
Step 7:
In a medium-sized mixing bowl, I beat the cream cheese with an electric mixer until creamy, and I combined the butter, with the icing sugar, vanilla extract, and salt in a mixing bowl using an electric speed mixer until everything was well mixed.
Step 8:
Following that, I spread the cream cheese icing on top of the cake and topped it with finely chopped walnuts to finish it off.
Step 9:
To finish, I served it immediately after cutting it into 24 pieces. Alternatively, I covered the cake and put it inside the refrigerator until serving.
Take pleasure in it! I hope that you'll like it!!!