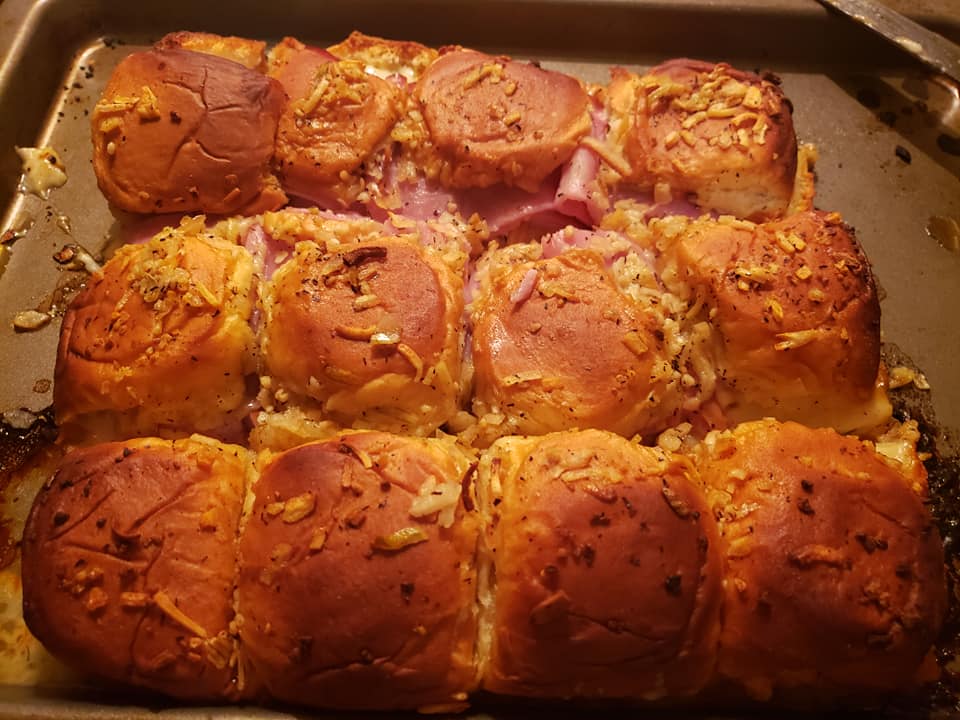 HOW TO MAKE HAWAIIAN PIZZA SLIDERS
Pizza night may be easily accommodated on every night of the week with the help of Pizza Sliders. Making these easy Hawaiian roll sliders with your family's favorite pizza toppings will result in a supper that will put a smile on everyone's face and take very little time to prepare.
No matter whatever recipe we decide to use, I know that I can always depend on Hawaiian roll sliders to be a dinner that all of us will like as well as one that is fast and simple for me to prepare.
If you have children, I feel that it should be a must that you set aside one night each week to eat pizza as a family. The preparation of these Pizza Sliders takes approximately ten minutes, and the baking time takes about twenty minutes at most. That puts me in a good position to be able to have supper ready in half an hour.
My family has a particular fondness for pepperoni pizza, and as a result, we like pizza sliders that are loaded with plenty of cheese and pepperoni. However, you are free to use the pizza toppings that your family loves most! You have the option of piling more toppings on top of the pepperoni, or you may leave the pepperoni off entirely.
THE INGREDIENTS LIST:
2 Pkgs.Of Hawaiian sweet rolls.
A medium jar.Of pizza sauce.
Sliced pepperoni; I used about 8 ounces.
16-oz.Of shredded mozzarella cheese.
About 8-oz.Of freshly grated parmesan cheese.
1 ½ Tsp.Of pizza seasoning.
FOR THE TOPPING, I USED:
2 Tbsp.Of unsalted butter – melted.
A finely minced fresh garlic.
1 Tsp.Of Italian seasoning.
To season; Salt & pepper to taste.
You add whatever you have as a topping, just be creative!!!!
STEPS TO MAKE THE BEST HAWAIIAN PIZZA SLIDERS EVER:
Step 1:
Bring the temperature in the oven up to 350 degrees. Prepare an extra-large baking dish or a baking sheet with a rim by spraying it with cooking spray. Set aside.
Step 2:
Do not separate the rolls by pulling them apart; rather, use a big knife with a serrated edge and cut the rolls in half, much like you would a bagel, separating the tops from the bottoms of each roll.
Step 3:
Cut sides facing up, and arrange the layer of bottoms in the baking dish that has been prepared.
Step 4:
To make the pizza topping, combine the mozzarella, parmesan, and pizza spice in a bowl.
Step 5:
Spread approximately half of the pizza sauce in an even layer over the bottom layer of the rolls, and then sprinkle about half of the cheese mixture evenly over the pizza sauce.
Step 6:
After layering the cheese, proceed to layer the pepperoni on top, followed by the remaining cheese. Roll tops should be placed on top.
Step 7:
To make the seasoning, melt the butter in a small bowl and mix in the garlic, Italian seasoning, salt, and pepper.
Step 8:
Use a brush to apply the mixture to the tops of the sliders. Bake them for another 15 to 20 minutes, or until the cheese is lovely and melted and the tops are beginning to turn a golden color.
Step 9:
Immediately after taking the sliders out of the oven, you have the option of grating some extra parmesan cheese on top of them.