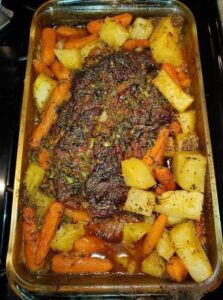 INGREDIENTS NEEDED:
FOR THE BEEF ROAST:
3 or 4 Lbs.Of boneless beef chuck roast,
Salt and freshly ground black pepper, to taste,
2 tablespoons olive oil,
2 large onions, roughly chopped,
4 garlic cloves, minced,
2 Cups.Of beef broth,
1 Cup.Of red wine (optional),
2 bay leaves,
2 sprigs of fresh rosemary,
2 sprigs of fresh thyme,
FOR THE VEGETABLES:
4 carrots, peeled and cut into chunks.
4 potatoes, peeled and cut into chunks.
2 Cups.Of chopped celery.
2 Cups.Of green beans, trimmed and cut into 2-inch pieces.
PREPARATION:
1st Step
Heat the oven to 325 degrees Fahrenheit (160 degrees Celsius). This method of low and slow simmering will ensure the beef is tender and flavorful.
2nd Step
Liberally season the beef chuck roast with freshly ground black pepper and salt. In a large ovenproof skillet or Dutch oven, heat the olive oil over medium-high heat. Once the pan is heated, add the beef roast and caramelize it on all sides until a rich, golden exterior form. The beef should be removed from the saucepan and set aside.
3rd Step
Add the chopped onions and minced garlic to the same saucepan. They should be cooked for a few minutes until aromatic and translucent.
4th Step
Pour the red wine into the skillet to deglaze it, skimming the bottom with a wooden utensil to remove any caramelized pieces. This procedure lends complexity and substance to the sauce.
5th Step
Return the browned roast beef to the saucepan. Pour the beef broth over the roast, then add the bay leaves and fresh rosemary and thyme sprigs. The container is covered with a lid.
6th Step
Place the covered container in a preheated oven for approximately 2.5 to 3 hours, or until the beef is fork-tender. Check the meat periodically and, if necessary, add more liquids to keep it supple.
7th Step
Add the carrots, potatoes, celery, and green beans to the stew roughly 30 minutes before the beef is done cooking. To coat them with the aromatic cooking liquid, stir them gently.
Continue roasting until the vegetables are tender and the beef is readily shredded.
8th Step
Once the beef roast and vegetables are cooked to perfection, remove the pot from the oven. The bay leaves, rosemary, and thyme should be removed. Slice the beef roast and serve it alongside the substantial vegetables, drizzling some of the rich pan liquids over each serving.