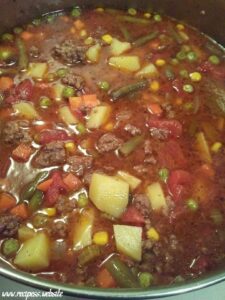 HOW TO MAKE HEARTY HAMBURGER SOUP
?
What could be better on a cold day than a big bowl of hamburger soup with macaroni and cheese? This is something I could eat for breakfast, brunch, and supper every day. No, not at all. I've gone through periods when I'd eat this every single day for months on end, and it was a staple in my diet. Even throughout the hot months! It's so satisfying that you won't even need anything else to go with it, but who can resist a great cheese biscuit? Smothered in salted butter, perhaps? My God, what a delight!!! This soup is one of my favorite dishes for winter!!
If you're looking for a hearty soup that has a lot of ground beef and corns as well as other vegetables, this one is for you! This is the great quick and simple supper that the entire family will enjoy!
I'm always on the lookout for simple, low-carb ground beef dishes. Ground beef is very flexible, tasty, and inexpensive, not to mention just delicious! I like that it makes low-carb and keto recipes incredibly simple to prepare and that the entire family enjoys them! I've found myself with a pound of ground beef and no idea what to do with it on occasion. It's during times like these that I turn to hamburger soup, which is filling, simple, and versatile enough to be made with whatever ingredients you happen to have on hand.This soup is also a hit with my children, which is an added plus. Macaroni, corn, and ground beef are the best combo for these cold days!!!This spicy and flavorful Hamburger Soup is the ideal combination of flavors. With just a few basic ingredients, this soup delivers a powerful punch in taste and texture! The following is a list of all of the ingredients that will be required:
Olive oil, I used one large spoon.
One small diced onion.
A large spoon.Of minced garlic
Lean ground beef, you'll need one pound.
Condensed tomato soup, I used a 10-ounces can mixed with a cup of water.
Canned corn, I used one cup.
Beef broth, I used 14-ounces, it is about 2 cups.
One cup of small pasta, I prefer to use macaroni, cooked as directed on package.
PREPARATION METHOD:
First Step:
In a 5-liter pot or Dutch oven, you'll need to heat the olive oil over medium heat until shimmering to begin.
Second Step:
The second thing you should do, is adding the onions and cook for a few minutes, or until they are tender.
Third Step:
And now, crumble the minced meat into a saucepan with the onions and garlic and simmer until the beef is no longer pink about 15 minutes total.
Fourth Step:
Then, remove as much fat as possible from the pan. To absorb the oil, I use paper towels to absorb it.) Season the meat with salt and pepper after that.
Fifth Step:
Combine the beef broth, tomato soup, and water in a large mixing bowl. Using medium-high heat, bring the mixture to a boil, then decrease the heat to boiling (medium to medium-low).
Sixth Step:
After that, you can cook the veggies over low heat until the vegetables are heated, about 5 minutes total. It will take around 6 to 8 minutes. Then, toss in the cooked pasta.
Seventh Step:
And now, add fresh chopped parsley, if preferred, and serve hot in individual bowls or on a large plate.
Eighth Step: 
You may cook the noodles in soup by adding them together with the veggies and simmering for a while until they are soft. HOPE THAT YOU'LL ENJOY IT!