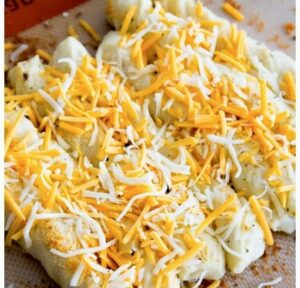 HOMEMADE CHEESY GARLIC BREADSTICKS RECIPE
Warm and tender garlic breadsticks coated with melting cheese. If you use this easy recipe your cheesy garlic breadsticks will turn out perfectly every time.
The flavor of garlic is there, but it is not dominant in these breadsticks. It is not overpowering at all; you will just detect a hint of garlic taste in the background if you use a little garlic head. You're going to want to make sure you have a piece of gum with a minty flavor.
The baked-on cheese and the buttery, fluffy bread are the flavors that will stand out the most to you. These crunchy breadsticks are the ideal complement to any go-to Italian meal since they provide a sense of warmth and familiarity. The cheesy delight may be dipped in marinara sauce and served as an accompaniment to a casserole dish of lasagna, a pot of chili, or a bowl of caesar salad. This breadstick recipe is likely to quickly become a favorite in your home and among your loved ones.
THE INGREDIENTS LIST:
Refrigerated classic pizza dough; I used a medium Pkg.
3 Tbsp.Of butter – melted.
1 1/2 Tsp.Of garlic powder.
2 Tbsp.Of grated parmesan cheese.
1 1/2 Tbsp.Of cornmeal – optional.
1 Tsp.Of dry Italian seasoning.
2 Cups.Of shredded mozzarella cheese.
2 Tbsp.Of fresh chopped parsley.
Pizza sauce – for dipping.
PREPARATION:
1st Step – Turn the oven temperature up to 425 degrees.
2nd Step – First, put the butter in a small dish and melt it in the microwave. Next, stir in the garlic powder and parmesan cheese, and then set the mixture aside.
3rd Step – After lightly spraying a large baking sheet with cooking spray and, if desired, evenly sprinkling cornmeal over the surface of the baking sheet, the baking sheet should then be placed in the oven.
4th Step – Unroll the pizza dough onto the baking sheet that has been prepared, and then gently push down on any edges that have curled.
5th Step – Next, spread the garlic butter over the surface in a uniform layer, and then top with the dry Italian spice.
6th Step – After spreading the mozzarella cheese over the dough in a uniform layer, put it in the oven for 10 to 12 minutes, or until the cheese is melted and the crust is just beginning to turn golden.
7th Step – Take the bread out of the oven, sprinkle it with parsley, and then let it sit for 1-2 minutes before serving.
8th Step – Make breadsticks by first slicing the bread lengthwise into one long strip, then cutting it into shorter strips along the sides. You may eat them straight, or you can dip them in pizza sauce or marinara.