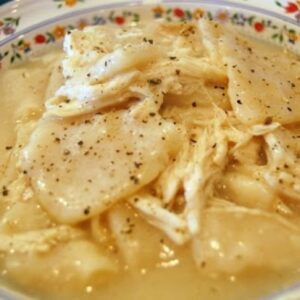 THE INGREDIENTS LIST:
For the Chicken:
1 whole chicken cut into parts (approx. 4 to 5 pounds).
Salt and freshly ground black pepper, to taste
2 Tbsp.Of vegetable oil.
1 large onion, finely chopped.
3 cloves garlic, minced.
4 carrots, peeled and sliced.
4 celery stalks, chopped.
2 bay leaves.
8 Cups.Of chicken broth (homemade or store-bought).
For the Dumplings:
2 Cups.Of all-purpose flour
1 Tbsp.Of baking powder
1 Tsp.Of salt
1/2 Tsp.Of black pepper
2 large eggs.
3/4 Cup.Of whole milk.
For Garnish:
• Fresh parsley, chopped (optional)
INSTRUCTIONS:
1. Prepare the Chicken:
Start by seasoning the chicken parts with salt and freshly ground black pepper. In heavy-bottomed pot heat the vegetable oil over medium-high heat. Once hot, add the chicken pieces and brown them on all sides until they develop a golden crust. Remove the chicken and set it aside.
2. Sauté the Aromatics:
Now you need to add the chopped onions and minced garlic. Sauté them until the onions turn translucent and fragrant, usually taking about 2-3 minutes.
3. Simmer with Vegetables and Broth:
Return the browned chicken pieces to the pot. Add the sliced carrots, chopped celery, bay leaves, and chicken broth. Bring the mixture to a gentle simmer. Allow it to cook for approximately 30-40 minutes, or until the chicken is cooked through and tender.
4. Prepare the Dumplings:
While the chicken is simmering, prepare the dumpling dough. In a mixing bowl, combine the all-purpose flour, baking powder, salt, and black pepper. In another bowl, whisk together the eggs and whole milk. Gradually add the wet ingredients to the dry ingredients, stirring until a sticky, thick dough forms.
5. Add the Dumplings:
Once the chicken is tender and the broth is flavorful, drop spoonfuls of the dumpling dough into the simmering broth. Be sure not to overcrowd the pot. Cover the pot and let the dumplings cook for about 15-20 minutes, or until they become soft and cooked through.
6. Serve:
To serve, remove the bay leaves and discard them. Ladle the Homemade Chicken and Dumplings into bowls, ensuring each portion includes a generous helping of dumplings, chicken, and broth. If desired, garnish with freshly chopped parsley for a burst of color and freshness.
This Homemade Chicken and Dumplings is a time-honored dish that embodies the essence of comforting, homemade cuisine. Its rich, flavorful broth, tender chicken, and soft, fluffy dumplings make it a beloved family favorite. Whether enjoyed on a chilly evening or to soothe the soul, this classic recipe never fails to warm the heart and satisfy the appetite. Experience the comforting embrace of Homemade Chicken and Dumplings, a timeless dish that transcends generations.