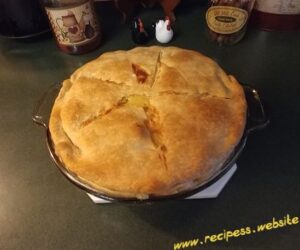 HOW TO MAKE CHICKEN POT PIE:
1 lb. boneless, skinless chicken breast
1 bag of frozen mixed vegetables
1 can cream of chicken soup
2 cups milk
2 T. corn starch
1 T. Chicken bouillon powder
salt and pepper to taste
1 double pie crust
Combine all ingredients and pour in to pie shell, top with crust.
Cur slilts in top to vent.
Bake at 400 for 15 to 20 min. until golden brown.
Enjoy.