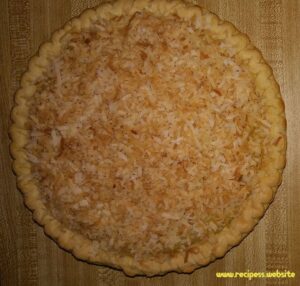 How To Make Coconut Custard Pie: 
Here Is This The Recipe:
Ingredients:
2 pre packaged pie shells
1 can evaporated milk
2 cups dry coconut
3 eggs
1 1/2 cups sugar
3/4 teaspoon vanilla
Directions:
MIX INGREDIENTS & POUR INTO SHELLS. 350 DEGREES 35-40 MINS OR UNTIL BROWN.
Easy and delicious…Enjoy.