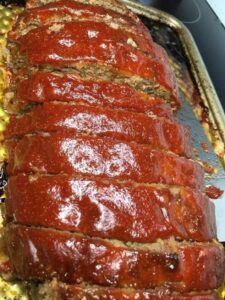 THE INGREDIENTS LIST:
FOR THE MEATLOAF:
1 ½ Lbs.Of ground beef (a mixture of beef and pork can also be used).
1 Cup.Of breadcrumbs.
1/2 Cup.Of milk.
1/2 Cup.Of finely chopped onion.
1/2 Cup.Of finely chopped bell pepper (optional).
2 cloves garlic, minced.
2 large eggs.
1/4 Cup.Of ketchup.
1 Tbsp.Of Worcestershire sauce.
1 Tsp.Of dried oregano.
1 Tsp.Of dried thyme.
1 Tsp.Of salt.
1/2 Tsp.Of black pepper.
FOR THE GLAZE:
1/4 Cup.Of ketchup.
2 Tbsp.Of brown sugar.
1 Tbsp.Of Dijon mustard.
INSTRUCTIONS:
1st Step
Prepare your oven by preheating it to 350 degrees Fahrenheit (175 degrees Celsius).
2nd Step
Mix the ground beef, breadcrumbs, milk, chopped onion, diced bell pepper (if using), minced garlic, eggs, ketchup, Worcestershire sauce, dried oregano, dried thyme, salt, and black pepper together in a large mixing bowl.
3rd Step
Make sure to use clean hands or a spoon to stir all of the ingredients thoroughly but gently until they are completely blended. Be very cautious not to overmix the meatloaf, since doing so might cause it to become tough.
4th Step
Place the meat mixture in a baking dish or form it into a loaf on a baking sheet that has been coated with parchment paper. You may shape it freehand, or if you want a more defined form, you can use a loaf pan.
5th Step
To prepare the glaze, combine the ketchup, brown sugar, and Dijon mustard in a small dish and mix together until smooth.
6th Step
Apply the glaze by brushing it over the surface of the meatloaf in a uniform layer. This will create a layer of taste that is both sweet and sour at the same time.
7th Step
After the oven has been warmed, place the meatloaf in the oven and bake for about one hour, or until the internal temperature reaches 160 degrees Fahrenheit (70 degrees Celsius), whichever comes first.
8th Step
Allow the meatloaf to rest for 10 minutes before slicing. This helps to keep the liquids within and guarantees that the texture will be delicate.