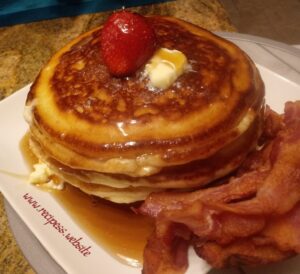 How To Make Pancakes?
Ingredients:
1 cup whole milk.
1 cup white flour.
3 tablespoons of granulated sugar.
1/2 tablespoon baking soda.
1/2 tablespoon baking powder.
2 tablespoons butter, melted.
1 large egg.
1 tablespoon pure vanilla extract.
1 tablespoon white vinegar.
A pinch of salt.
Directions:
Step 1:
I combined the flour, baking soda, baking powder, sugar, and salt in a large bowl, mixing well.
In another bowl, I whisked milk and vinegar, then I added egg, vanilla extract, and melted butter.
Step 2:
I mixed the dry ingredients with the wet one very well and set it aside for 10 minutes.
Step 3:
NOW. IT'S TIME TO COOK OUR INCREDIBLE PANCAKES. GENTLY I dipped out 1/2 cup of batter and place it on a buttered grill or frying pan and cook until the first side is golden brown, and then flip with a spatula and brown the other side.
FOR TOPPING YOU CAN USE SOME FRESH FRUITS AND HONEY.
ENJOY.