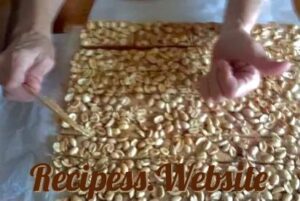 HOMEMADE PAYDAY CANDY BARS
If you are a fan of candy bars just as much as I am, then you are going to really like these handmade candy bars for payday. They have a tasty and chewy texture.
PayDays are not as bad as most people think; in fact, they're one of my favorite kinds of candy bars. I'm aware that it's not as popular as Snickers or Kit Kats, but the mix of sweet and salty is absolutely one of my favorite flavor combinations ever!
Even while picking up a candy bar in the checkout line at a grocery store is a fast and easy option, it's not uncommon to find that handmade versions of candy bars are just BETTER. Making anything from scratch, without any of the "additional" components that are included in produced goods, has some benefits.
The good news is that this homemade version is really rather easy, and the flavor that you get from it makes the little amount of work well worthwhile.
MAKING YOUR OWN HOMEMADE VERSION OF A PAYDAY CANDY BAR INVOLVES JUST A FEW SIMPLE ITEMS, AND HERE IS A LIST OF EVERYTHING YOU'LL NEED:
3 Cups.Of salted peanuts.
3 large spoons.Of butter – at room temp.
2 Cups.Of peanut butter chips.
2 Cups.Of mini marshmallows.
Canned sweetened condensed milk; you'll need 1 can.
AND HERE'S HOW TO MAKE YOUR OWN HOMEMADE PAYDAY CANDY BARS:
First Step – Put half of the peanuts on an 11×7-inch pan that has been buttered and spread them out so they cover the bottom.
Second Step – In a low-sided saucepan, melt the butter and chips together until they are well mixed.
Third Step – After adding the condensed milk and marshmallows, whisk the mixture until everything is combined. After that, pour it on top of the peanut mixture.
Fourth Step – Sprinkle the remaining peanuts on top, then set aside to cool.
Fifth Step – Refrigerate or let rest at room temperature until it settles. Enjoy your sweets by first slicing them into serving bars.