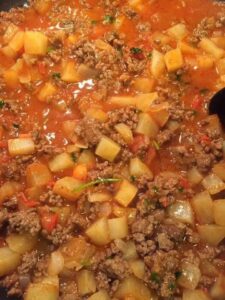 HOW TO MAKE PICADILLO WITH FLOUR TORTILLAS
Picadillo is a traditional dish served for supper in Mexico. It is a simple dish that requires few ingredients and can be prepared quickly. A tomato sauce is going to be cooked with some ground meat and potatoes. If you want to make a whole dinner out of this recipe, serve it over some rice and some fresh flour tortillas.
This time-honored dish of ground beef and potatoes is sure to bring back fond memories. This is one of those recipes that can be altered in about every way imaginable, and every cook has a unique technique for preparing it. It is like eating a hug in a bowl. It is a simplified version of the original recipe. If you have some ideas of the different ways you can easily customize it, you will be able to make it work perfectly for you and your family.
This recipe is easily adaptable to accommodate your favorite variants; for example, you may use peas and carrots, or any other vegetable of your choosing. Alternately, if you like a spicier dish, you may substitute jalapeño or another kind of chili for the bell pepper.
THE INGREDIENTS LIST:
Ground beef; I used 500 grams.
½ Cup.Of diced onion.
A diced green bell pepper.
2 large diced potatoes.
4 cloves.Of garlic – minced.
Tomato sauce; I used a 200 grams jar.
1½ Cups.Of beef broth.
Sea salt.
¼ small spoon.Of ground black pepper.
1 small spoon.Of ground cumin.
1 small spoon.Of ground coriander.
1 or 2 bay leaves.
PREPARATION:
1st Step
Heat a large pan over medium heat, and add ground meat. While it cooks over medium heat, split up the meat into little pieces. Cook until the outside is mostly browned, then remove the fat and return the pan to heat.
2nd Step
Add potatoes, chopped onion, and diced green bell pepper to the dish. Cooking should be continued over medium heat until the onion and peppers have become more pliable. After adding the garlic and continuing to simmer for another 30 seconds.
3rd Step
Add the tomato sauce as well as the beef broth. Add in the seasonings: cumin, salt, and pepper, along with coriander and cumin. Give everything a good stir. Add bay leaf.
4th Step
Bring mixture to a simmer, then cover and continue cooking for another 10 minutes.
5th Step
Take the lid off, give everything a good stir, and leave it off for another 10 minutes, or until the potatoes are mushy and most of the liquid has evaporated.
6th Step
Serve while still heated with rice and flour tortillas.
I REALLY HOPE YOU'LL ENJOY THIS MEXICAN DISH!!