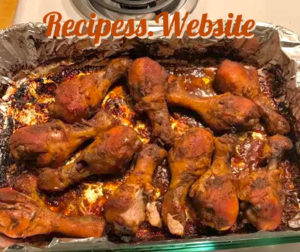 HONEY BAKED CHICKEN
HONEY BAKED CHICKEN is a dish that works well both for busy weeknights and relaxed Sundays. Simply combine honey, soy sauce, and garlic in a bowl, then pour it over the chicken and bake in the oven to finish cooking. It turns out to be a chicken dinner that is sweet, salty, and sticky; these are the kinds of flavors that everyone enjoys.
The glazing couldn't have turned out any better. Strong in flavor, but there isn't an excessive quantity of it – just enough to cover the chicken, which is all that's required, which is why it's so good. You don't even have to marinate the chicken since the flavor of the glaze is so fantastic; all you need to do is brush it on. Simply toss a few simple ingredients into a baking dish, give it a good bake, and you'll have a delectable meal that will win rave reviews from everyone at the table!!!
TO PREPARE THIS DISH, YOU WILL NEED THE FOLLOWING INGREDIENTS:
Bone-in, and skin-on chicken drumstick or thighs; I used 2 Pounds.
 A medium red onion, cut into wedges.
For making the GLAZE, you'll need the following ingredients:
3 cloves.Of garlic – minced.
3 large spoons.Of honey.
3 large spoons.Of soy sauce.
1 large spoon.Of apple cider vinegar.
1 small spoon.Of black pepper.
PREPARATION: 
Step 1 – Set the temperature in the oven to 200 degrees Celsius (or 390 degrees Fahrenheit) with the fan on for 180 degrees.
Step 2 – Next, line a baking dish with baking paper after first lining it with foil. The chicken should fit on the baking pan without being crammed in or too spread out. If the chicken is packed in too tightly, the glaze won't be able to set properly.
Step 3 – After thoroughly combining the ingredients for the Glaze, pour it over the chicken: After putting the onion and chicken in the baking dish with the skin-side down, pour the glaze over the top.
Step 4 – Bake for 25 minutes, flip the chicken over, and continue baking for an additional 25 to 35 minutes, or until the glaze is sticky and the chicken has browned. If the glaze has not thickened to the consistency of syrup, transfer the chicken to a dish and return the pan to the oven for a few more minutes (it will reduce quickly).
Step 5 – At this point, you need to flip the chicken over and squish it around in the glaze; you can also pour it on top.
Step 6 – Serve with rice and steamed greens, garnished with sesame seeds and fresh cilantro/coriander leaves.
ENJOY IT!!