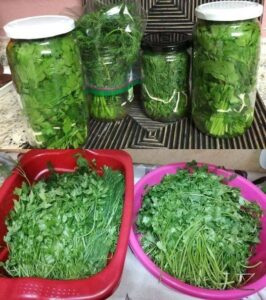 HOW TO KEEP FRESH PARSLEY FOR A MONTH USING THE BOWL METHOD
Parsley, in its fresh form, is a very useful herb that can be used to enhance the taste and appearance of a variety of dishes. However, it might be difficult to maintain its freshness over time. Parsley may be kept fresh for up to a month using the bowl technique, so you can always have some on hand for cooking.
REQUIRED EQUIPMENT:
Fresh parsley a lot
A wide-mouthed bowl or container
A clean kitchen towel or paper towel
Plastic wrap or a plastic bag
METHOD OF WORK:
Selecting Fresh Parsley:
Starting with a bunch of fresh parsley, choose the rest of your ingredients. Check for healthy, bright green leaves with no browning or wilting. Choose parsley that has long stems so that it may be easily dropped onto the serving dish.
Cleaning the Parsley:
To eliminate any dirt or debris, gently wash the parsley under cold running water. Remove any extra moisture by shaking it and then patting it dry with a dry dish towel or paper towel. Just a few minutes of air drying will guarantee that all moisture has been removed.
Prepping the Bowl:
To begin, take a large bowl or other container with a wide opening and line the bottom with a clean paper towel. This will prevent the parsley from becoming soggy from sitting in water and will help absorb any extra moisture.
Arranging the Parsley:
Trim the parsley's stems just a little bit to help them drink up more water as you arrange them. Put the parsley bunch in the basin so that the stems are facing down and the leaves are facing up. The parsley may be propped up with the towel's help.
Covering with Plastic Wrap:
To cover the parsley, make a tent out of plastic wrap and place it over the parsley. In order to maintain the parsley's freshness, this will assist in establishing a regulated climate with slightly increased humidity.
Storing in the Refrigerator:
Place the bowl with the wrapped parsley in the refrigerator. Avoid putting it somewhere where the temperature may rise and fall drastically since this might lead to moisture forming within the plastic wrap.
Checking and Rehydrating:
Look at the parsley every so often to see if it's drying out or dying. If you see any, use a spray bottle to softly spritz the leaves with water. They'll be able to rehydrate with this.
Changing the Towel:
If the towel at the bottom of the bowl gets wet, swap it out for a new, dry one right away so that water doesn't build up.
How to Use Stored Parsley:
When you're ready to use the preserved parsley, just take it out of the plastic wrap and pick off as many leaves as you want. You should wash them in cold water before using them in any of your dishes.
The bowl method is an easy way to keep parsley fresh for up to a month. Using this method, you can keep the herb fresh and ready to use in any recipe without having to worry about it drying out. To keep the parsley in top shape, check on it occasionally and rehydrate it. Using this strategy, you will always have a ready supply of fresh parsley.