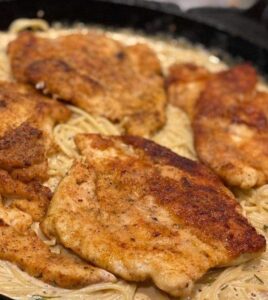 HOW TO MAKE ITALIAN CHICKEN PASTA
This recipe for Italian Chicken Pasta is a delicious take on a traditional Italian evening meal that is straightforward to prepare and brimming with flavor. After the chicken has been prepared in a simple mixture of olive oil and garlic, it is afterward tossed with pasta that has been previously cooked, tomatoes, and fresh basil. The chicken and pasta are served with a flavorful sauce that is produced when the tastes of garlic, tomatoes, and basil are combined. This sauce is the ideal accompaniment to the chicken.
This recipe is an excellent way to put whatever leftovers you have lying around to good use. You may choose to serve it as is or add freshly grated Parmesan cheese on top before serving. If you are preparing food for a big number of people, you may easily double the ingredients in the recipe by two or three. Complete the dinner by serving it with a green salad on the side and some crusty bread. You and your loved ones are going to really like this traditional Italian dinner meal that you prepare.
HERE IS THE LIST OF EVERYTHING YOU NEED TO MAKE THIS ITALIAN CHICKEN PASTA DISH:
5 Boneless skinless chicken breast fillets.
Spaghetti noodles; I used 12-ounces.
½ Cup.Of Flour.
1 Tsp.Of Salt.
¼ Tsp.Of Pepper.
1 Tsp.Of Garlic powder.
2 Tsp.Of Italian seasoning.
2 Tbsp.Of olive Oil.
THE SAUCE INGREDIENTS:
4 Tbsp.Of Butter.
A Chopped Onion.
4 Tsp.Of Minced garlic.
2 Small tomatoes; diced.
1 Tbsp.Of Flour.
1 Cup.Of White cooking wine.
1 Cup.Of Heavy whipping cream.
½ Cup.Of Parmesan cheese grated.
1 Tsp.Of Italian seasoning.
½ Tsp.Of Salt.
¼ Tsp.Of Red pepper flakes.
PREPARATION:
Step 1:
To begin, you need to slice the chicken breasts horizontally to make thin slices. Using paper towels, pat the slices dry.
Step 2:
Put the flour, salt, black pepper, garlic powder, and Italian seasoning in a large bowl. Mix well until homogeneous. In the flour mixture, dip the chicken breasts and press them into the mixture using tongs, turning to coat. Set the covered chicken aside.
Step 3:
In a large skillet, heat 2 tablespoons of olive oil over medium-high heat. Place the floured chicken breasts in the skillet once the oil is hot and sear them for 4 to 5 minutes per side until just cooked through and golden brown, flipping once. Set the chicken aside when finished cooking.
Step 4:
To prepare the sauce, add the butter to the skillet along with the chopped yellow onion and minced garlic cloves. cook for 2 minutes over medium-high heat or until onions and garlic become translucent. Then add chopped green onions and tomatoes. Now, stir in the flour.
Step 5:
At this point, you should add heavy cream followed by the wine, Italian seasoning, salt, and red pepper flakes. Bring everything to a boil before adding 1/2 cup grated Parmesan cheese. Stir the mixture with a whisk or a wooden spoon until the mixture is smooth.
Step 6:
Following package directions, cook pasta in a large pot of salted water until al dente. Drain it when you're done, but don't rinse it off.
Step 7:
Now, add the cooked pasta to the skillet along with the sauce. Stir and continue to cook for 2 to 4 minutes over low heat. Adjust the salt if necessary. Place the chicken over the pasta and cook for another 5 minutes.
Step 8:
To serve, place the chicken on top of or on the side of the pasta. If desired, sprinkle with Parmesan cheese. Enjoy!