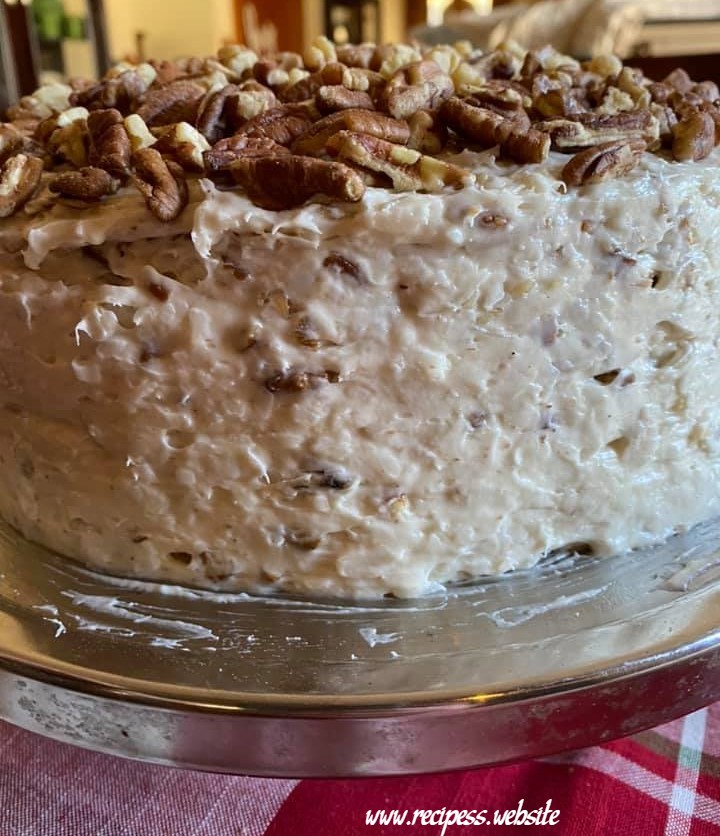 HOW TO MAKE ITALIAN CREAM CHEESECAKE?
This Italian cream cake contains three layers of delicious coconut-filled cake with toasted pecans! With whipped cream cheese icing on top, it's a beautiful, light, and traditional cake to serve.
No one seems to be able to pinpoint the origin of the Italian cream cake's creation. Furthermore, despite its name, it is not strictly of Italian origin. Actually, it's more of a southern cake, as shown by the inclusion of coconut and pecans, as well as the cream cheese icing.
Contrary to popular belief, despite having spent my whole childhood in the southern United States, this is a cake that I had never really tasted until lately. It's not something my family has ever had, and it's not something I've ever seen much of in my life. However, after receiving many requests for a recipe for Italian Cream Cake, I set out on a mission to get some in order to give it a try.
I was able to locate some at my favorite bakery in our neighborhood north of Atlanta. The cake had a great taste, and the coconut and pecans went well with it. The whipped cream cheese frosting was so light and airy that I couldn't stop myself from devouring the whole batch! What a delectable dessert!
TO MAKE THIS LAYERED CAKE, YOU'LL NEED THE FOLLOWING INGREDIENTS :
A soft stick.Of butter.
Half a Cup.Of ghee.
400 grams.Of granulated white sugar.
250 grams.Of all-purpose flour.
5 whole eggs, at room temperature.
A Cup and Half.Of sweetened shredded coconut.
A Cup.Of milk.
A small spoon.Of vanilla.
A small spoon.Of baking soda.
1 Cup.Of chopped pecans.
FOR MAKING THE CREAM CHEESE FROSTING, YOU'LL NEED:
Around five Cups.Of confectioners' sugar.
Soft cream cheese, I used a tub. Of 11-ounces.
¾ Cup.Of chopped pecans.
¾ Cup.Of soft butter.
A small spoon and half.Of vanilla extract.
PREPARATION:
1st Step:
The first step, is turning the temperature of the oven to 350 degrees Fahrenheit, and prepare three 9-inch circular baking pans by coating them with butter and flour.
2nd Step:
In a large mixing bowl, you need to cream together the butter, ghee, and sugar until light and fluffy, about 7 minutes. In a separate bowl, whisk together the egg yolk and vanilla extract.
3rd Step:
At this point, it's time to combine the flour and baking soda in a separate bowl; add to the cream mixture alternately with the milk. Using an electric mixer, blend until barely mixed. Add the coconut and pecans and mix well.
4th Step:
And now, In a separate dish, using clean beaters, whip the egg whites until firm but not dry, about 2 minutes.
5th Step:
Following that, you can fold in a quarter of the egg white into the mixture, then fold in the remaining egg white until everything is well combined. Pour into the vats that have been prepared.
6th Step:
Pop the pans for around 25 minutes of baking. Cooled the cakes for approximately 10 minutes before removing them from the pans.
7th Step:
To prepare the buttercream, combine the cream cheese and butter in a large mixing bowl until smooth.
8th Step:
To make the frosting, cream together the confectioners' sugar and vanilla extract until frothy. Add in the pecans and mix well.
9th Step:
Distribute the icing between the layers, as well as on the top and edges of the cake to finish it off. Take pleasure in it!
Enjoy.