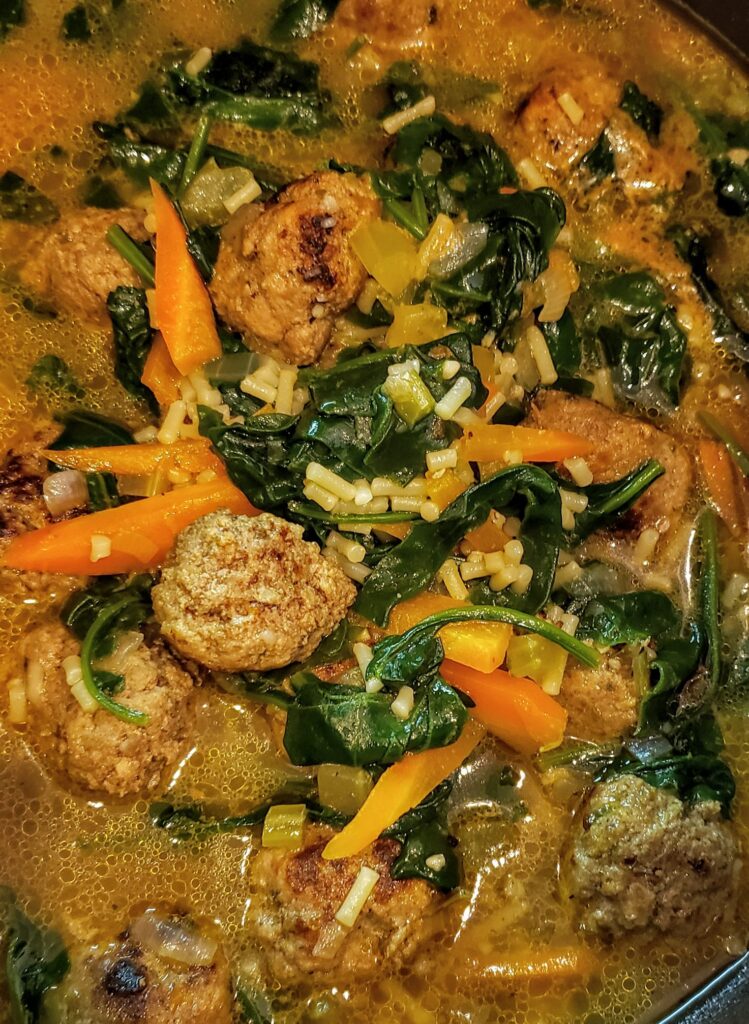 HOW TO MAKE ITALIAN WEDDING SOUP
My children like anything that has meatballs, particularly smaller versions of meatballs, and as a result, there is a great deal of excitement in our home whenever Italian wedding soup is on the menu. The name is a reference to the harmonious manner in which the tastes merge, much like a successful marriage.
The traditional base for wedding soup is a savory handmade chicken stock that has been simmered for an extended period. I use a mix of a high-quality store-bought broth that has been fortified with wine and a large number of vegetables in order to simulate the same rich taste while saving time. My trick for making meatballs is to blend ground sausage with ground beef. This combines two very flavorful ingredients and eliminates the need for a large number of extra spices. The process of rolling the small meatballs into balls is the most laborious element of the dish (it produces 50), but I generally recruit one of the kids to help me out with it.
HERE IS WHAT YOU'LL NEED:
THE MEATBALLS INGREDIENTS:
1 large beaten egg.
3 Tbsp.Of finely chopped fresh chives.
2 Tsp.Of finely chopped fresh sage.
2 minced garlic cloves.
¾ Pound.Of lean ground beef; preferably 90%.
½ Pound.Of sweet or hot Italian sausage.
½ Cup.Of grated Parmigiano Reggiano.
⅓ Cup.Of Italian seasoned bread crumbs.
¼ Tsp.Of salt.
THE SOUP INGREDIENTS:
2 Tbsp.Of olive oil.
A medium-diced yellow onion.
2 large diced carrots.
2 diced stalks of celery.
6 Cups.Of high-quality chicken broth.
2 Cups.Of high-quality beef broth.
2 Cups.Of water.
½ Cup.Of dry white wine.
1 bay leaf.
½ Tsp.Of salt
¼ Tsp.Of white pepper.
1 Cup.Of small pasta.
4-oz.Of fresh spinach.
Grated Parmigiano, for serving.
PREPARATION:
1st Step:
First, turn the oven up to 350 degrees Fahrenheit. After lining a baking sheet with aluminum foil, place a roasting rack that is safe for the oven on top of the prepared surface. Spray the rack liberally with cooking spray that prevents sticking.
2nd Step:
Whisk together the chives, sage, and garlic in a large bowl before adding the egg. Add the other ingredients for the meatballs, and mash them together with your hands until they are well incorporated.
3rd Step:
Roll the mixture into roughly 50 meatballs of tablespoon size and 1 inch in diameter, and set on the prepared rack.
4th Step:
Bake for 15 to 18 minutes, or until the outside is gently browned and the inside is fully done. Set aside.
5th Step:
In the meanwhile, begin preparing the soup. Warm the olive oil in a large Dutch oven or soup pot over a heat source of medium intensity. After adding the onions, carrots, and celery, continue cooking while stirring often for about 8 minutes, or until the veggies have become softer.
6th Step:
Bring the water, wine, chicken broth, beef broth, bay leaf, salt, and pepper to a boil in a large pot.
7th Step:
After adding the pasta, continue cooking it at a slow boil with the lid off for 8 to 10 minutes, or until it reaches the desired texture of al dente (or according to package directions).
8th Step:
Taste the soup, then make any required adjustments to the seasoning. Turn the heat down to low and then add the meatballs and spinach to the pan.
9th Step:
Continue to cook over low heat for a few minutes, or until the spinach has wilted and the meatballs have reached the desired temperature. Place in bowls and top with grated Parmigiano cheese before serving.