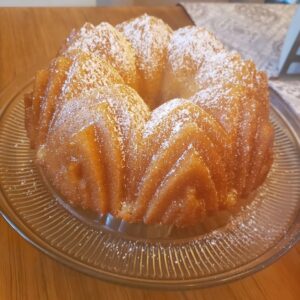 How To Make Kentucky Butter Cake
When I was a little girl, my grandma used to cook me a special butter cake every once in a while. It was my absolute favorite sweet treat. I can still remember the flavor of her excellent cake, even though she has been gone for many years.
Because it had been a long since I last had butter cake, I decided to try to make it on my own. The dish may be made with very little effort, although it does need some time in the oven. I set the timer and proceeded about my day, excitedly awaiting the delectable surprise that would soon be ready.
When the timer eventually went off, I raced into the kitchen to get the cake before it cooled completely. Everything seemed like it would work out perfectly! I cut it up and took a mouthful… It was even more fantastic than I expected. There is no question that the recipe for a butter cake that Grandma made should be kept.
There is just nothing that can compare to the smell of butter cake baking in the oven. There's a good reason this traditional dish has stood the test of time: it's tasty! This butter cake is guaranteed to fulfill your want for something sweet, whether you are searching for a dessert to celebrate a special occasion or simply something to satisfy your sweet tooth. Give it a try as soon as you can! Our recipe for an old-fashioned butter cake is presented here in its complete, and don't forget to let us know how it goes once you to give it a try.
There are specific steps that must be taken to keep an old-fashioned butter cake. Before putting the cake in the fridge, make sure it has cooled fully. It's up to you whether you keep it at room temperature or in the fridge. Let it sit out at room temperature for at least a little if you're going to put it in the fridge. Enjoy!
THE INGREDIENTS LIST:
2 Cups.Of All purpose flour.
1 ¼ Cups.Of Granulated sugar.
1 Large spoon.Of Baking powder.
1 Small spoon.Of Salt.
½ Cup.Of Softened butter.
1 Cup.Of whole Milk.
1 Small spoon.Of Vanilla extract.
2 whole eggs.
Use the Icing of your choice.
PREPARATION:
1st Step
Prepare the cake pans by greasing them well and preheating the oven to 350 degrees.
2nd Step
Mix the flour, sugar, baking powder, salt, butter, vanilla extract, and eggs together in a mixing bowl until the mixture is smooth.
3rd Step
After the milk has been incorporated using the mixer, the batter should be velvety smooth.
4th Step
Using a spatula, divide the mixture equally between the two cake pans. Bake for about 30 minutes, or until it is browned on the outside and cooked all the way through.
5th Step
After allowing them to cool on a rack, take the cakes from the pans and place them on the rack.
6th Step
When it is time to serve, arrange a layer of cake on a serving dish, then add a layer of frosting on top of that.
7th Step
To assemble, place the second cake layer on top and frost the whole cake, including the top and edges, at least an hour before serving.