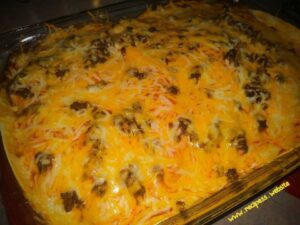 I browned up the ground beef with some chopped onion, minced serrano, cilantro, lime juice, garlic powder, onion powder, cumin, chili powder, tajin, salt and pepper.
For the layers:
I drizzled a little bit of red enchilada sauce (canned) on the bottom of a baking dish.
Then put a layer of tortillas, covering the bottom.
On top of that I spread a thin layer of refried beans (canned, but I add sour cream, cumin, and hot sauce).
I then put down about half of the meat, topped that with a drizzle of enchilada sauce and some shredded cheese.
I repeated those layers, but with crumbled queso fresco in place of the shredded cheese.
Then another layer of tortillas, the rest of the sauce, about a half cup of the meat that I had saved for the top, and more shredded cheese.
Then I baked it all at 400 degrees for about 15 minutes.
This took 2 pounds of ground beef.
Enjoy.