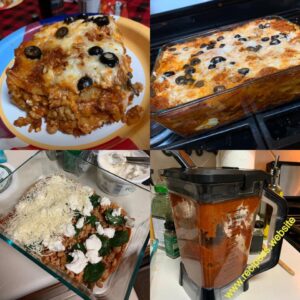 10 oz. Frozen Spinach (thaw and try and get all excess liquid out)…
1 box Lasagna noodles ( Boil and drain)
32oz container Ricotta Cheese
1-Egg
2 cups Mozzarella cheese
2 1/2 cups Pasta Sauce
Salt/Pepper to taste
Mix Egg, Ricotta, Mozzarella, Spinach, salt and pepper….Mix well….
On a flat surface when noodles are cool enough lay out flat and spread filling out to cover edge to edge you do not have to put to thick….Roll and put into greased casserole dish then cover with pasta sauce and bake for 45 minutes covered.
Preheat oven to 400.
Enjoy.