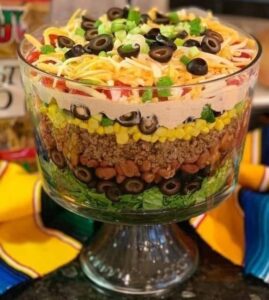 HOW TO MAKE LAYERED TACO SALAD
Everyone needs to master the art of making the original Taco Salad. This version is simple, savory, and nutritious; it takes very little time to prepare; and it's a supper that both young and elderly people can agree is delicious.
This simple salad is evidence that a scrumptious dinner can be put together with very few ingredients and yet get the desired effect. This is a dish you'll want to keep in your back pocket and prepare again and again! Taco salad has been a staple in my diet for as long as I can remember. Naturally, when I was a child in the '90s, my mother made the Doritos version, and of course, we enjoyed it, but nowadays I want to create it using chips that have a more natural flavor.
One of the most ideal dishes for a weekday dinner is taco salad. When there isn't much time to create anything, taco salad is a terrific alternative to have on hand, particularly this variation which utilizes ground beef (no need to dice up chicken or beef), and canned salsa to provide tons of flavor without the preparation, and pre-shredded cheese.
This is a pleasure for every member of my family, and I like that it is packed with healthy, freshly prepared ingredients.
INGREDIENTS:
FOR THE BEEF FILLING, I USED:
1 large spoon.Of olive oil
Lean ground beef; I used 600 grams.
1 Cup.Of bottled fire-roasted salsa.
2 small spoon.Of chili powder.
1 small spoon.Of ground cumin.
To season; Salt and ground black pepper.
3 large spoons.Of fresh cilantro.
THE SALAD INGREDIENTS:
Romaine lettuce; I used a head chopped.
Tortilla chips – slightly crumbled.
1 Cup.Of Shredded Mexican cheese blend.
2 Roma tomatoes – chopped.
A large diced avocado.
5 large spoons.Of Sour cream.
1/4 Cup.Of chopped red onion.
DIRECTIONS:
1st Step:
To begin, you need to warm olive oil over medium-high heat (in a 12-inch nonstick skillet).
2nd Step:
Mix in bits of meat that have been crumbled. After allowing the bottom to sear for approximately three minutes, the beef should be turned over, broken up, and then allowed to continue cooking until it is completely done.
3rd Step:
After draining any excess fat from the meat, mix in the salsa, chili powder, and cumin. Add salt and pepper to taste, then let the food cook all the way through for approximately a minute. Remove from heat and combine with cilantro.
4th Step:
Spread lettuce in layers on each of the plates. Served with chips, beef mixture, cheese, tomatoes, avocado, sour cream, and red onion, if desired. Serve right away.