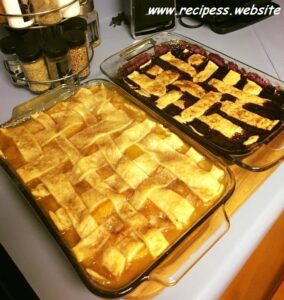 You wanna make a delicious dessert quickly, this one is for you, you'll need just 10 minutes to prepare it.
How To Make Lazy Peach Cobbler?
INGREDIENTS :
1 cup of white flour.
1 cup sweetened fruits.
1 stick softened margarine.
1 cup granulated sugar.
1 cup whole milk.
1/2 tbsp baking powder.
1/2 tbsp baking soda.
A pinch of salt.
INSTRUCTIONS :
STEP I :
I melted margarine using a baking pan.
STEP-II :
In a mixing bowl I mixed, sugar, flour, salt, baking powder, baking soda, and milk, beating well
STEP III:
I poured the batter in the same pan, then I covered it with fruits without stirring.
 STEP IV:
I baked it for 1 hour at 350℉.
FOR SERVING, I SERVED IT ITH ICE CREAM, T WAS INCREDIBLE.
ENJOY.