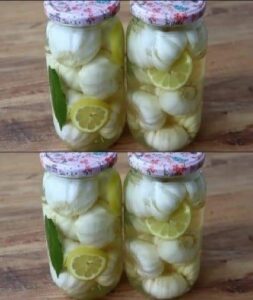 THE METHOD:
Selecting the Ingredients: To embark on this culinary journey, start with fresh, unwaxed lemons and firm, unblemished garlic bulbs. Look for lemons with bright, unblemished skins, as these will yield the best results.
Preparing the Lemons: Wash and thoroughly dry the lemons. Cut them into quarters, lengthwise, stopping just short of the base so that the quarters remain attached.
Salting the Lemons: Generously sprinkle salt on the exposed flesh of the lemons. The salt acts as a preservative and also helps draw out the lemon juice.
Packing the Jar: Take a clean, sterilized glass jar with an airtight seal. Place a layer of coarse sea salt at the bottom of the jar, creating a bed for the lemons.
Layering with Lemons and Garlic: Nestle the salted lemon quarters into the jar, pressing them gently to release more juice. As you layer the lemons, intersperse them with peeled garlic cloves. The garlic imparts its distinct flavor and aroma to the preserved lemons.
Additional Flavorings (Optional): For added depth of flavor, consider including bay leaves, whole black peppercorns, or even a cinnamon stick. These optional additions infuse the jar with nuanced aromatic notes.
Completing the Preserving Process: Once the jar is filled, press the lemons down firmly to release any trapped air bubbles. Top off with extra lemon juice to ensure all the lemons are submerged. This creates an environment that hinders bacterial growth.
Sealing the Jar: Seal the jar tightly, ensuring no air can enter. Store it in a cool, dark place for at least a month, allowing the flavors to meld and intensify.
Using Preserved Lemons and Garlic: When it's time to use your preserved lemons and garlic, rinse them thoroughly to remove excess salt. The softened lemon rind becomes a versatile ingredient, adding a unique citrusy brightness to a variety of dishes.
Enhancing Culinary Creations: Preserved lemons and garlic lend their distinct flavors to dishes like stews, soups, roasted meats, salads, and even marinades. The combination of citrusy zing and garlicky depth elevates the taste profile of your culinary creations.
By employing this method of preserving lemons and garlic cloves in a jar, you not only solve the winter produce dilemma but also open up a world of culinary possibilities. The preserved lemons and garlic become a versatile pantry staple, infusing your dishes with a burst of bright, zesty flavor even in the coldest months of the year. Embrace this traditional technique and let your winter recipes shine with the addition of these preserved gems.