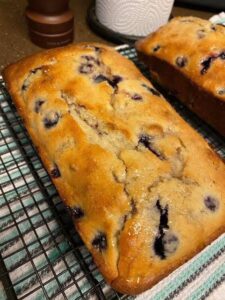 THE INGREDIENTS LIST:
FOR THE LEMON BLUEBERRY LOAF:
– 1½ Cups.Of all-purpose flour.
– 1 Tsp.Of baking powder.
– ¼ Tsp.Of baking soda.
– ¼ Tsp.Of salt.
– ½ Cup.Of unsalted butter, softened.
– 1 Cup.Of granulated sugar.
– 2 large eggs.
– 2 Tbsp.Of lemon zest (from about 2 lemons).
– 2 Tbsp.Of fresh lemon juice.
– ½ Cup.Of plain Greek yogurt.
– 1 Cup.Of fresh or frozen blueberries (if using frozen, do not thaw).
– 1 Tsp.Of vanilla extract.
FOR THE LEMON GLAZE (OPTIONAL):
– 1 Cup.Of powdered sugar.
– 2 Tbsp.Of fresh lemon juice.
– 1 Tbsp.Of lemon zest.
PREPARATION:
1st Step
Turn the oven temperature up to 350 degrees Fahrenheit (175 degrees Celsius). To make removal from the pan easier, line a 9-by-5-inch loaf pan with parchment paper or grease and flour it.
2nd Step
Mix the all-purpose flour, baking powder, baking soda, and salt in a medium basin. Put this powdery concoction aside for now.
3rd Step
Cream the softened butter and granulated sugar together in a large mixing bowl until the mixture is light and creamy. A couple of minutes is approximately right for this.
4th Step
Incorporate the eggs one at a time, beating well after each addition. Add some freshly squeezed lemon juice and the zest. The scent alone will make you want to dive in.
5th Step
Stir in the Greek yogurt and vanilla extract to the liquid ingredients. Slowly pour the dry ingredients into the wet and whisk until incorporated. If you want a soft loaf, be cautious not to overmix the dough.
6th Step
To ensure that the blueberries are uniformly dispersed throughout the batter, fold them in gently. When the pan is ready, pour the batter into it and spread it out evenly.
7th Step
To test doneness, stick a toothpick into the middle and remove it with either a few moist crumbs attached or nothing at all after 45–55 minutes in a preheated oven. Keep a close watch on the oven as baking times might vary.
8th Step
After approximately 10 minutes, remove the lemon blueberry loaf from the pan to a wire rack to cool fully. To make the optional lemon glaze, combine powdered sugar, fresh lemon juice, and lemon zest in a bowl and whisk until smooth. Drizzle over the cooled loaf.
9th Step
After the Lemon Blueberry Loaf has cooled and been glazed, it may be cut into large servings. The tartness of lemon and the sweetness of blueberries blend in every mouthful.