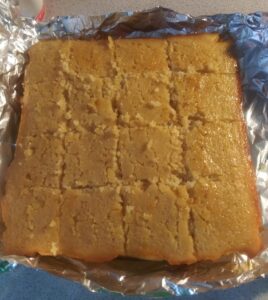 HOW TO MAKE LEMON BROWNIES!!!
Probably you've always believed that brownies only came in a chocolate taste. guess again! These lemon brownies have a flavor that is absolutely out of this world.
These lemon brownies are out of this world delicious, and they are covered with the most fantastic lemon glaze that is overflowing with the taste of genuine lemon.
You probably think of moist and delectable chocolate-baked products when you think of brownies. Brownies are a kind of cookie. And although there is nothing inherently wrong with the typical chocolate form of brownies, these lemon brownies give those brownies a run for their money in terms of flavor and texture. These lemon-flavored brownies are guaranteed to win you over if you're a lover of sweets with a lemony taste. Because they need few components and are straightforward to put together, you'll have no trouble serving them to your loved ones on any number of special occasions.
Although you can't go wrong with the original recipe for these brownies since it's so easy to follow, there are a lot of various twists you can put on them. These are some of the ways that you may include something new and different into the mix:
THE INGREDIENTS LIST:
2/3 Cup.Of softened butter (at room temp).
1 Cup.Of granulated sugar.
2 whole eggs.
4 Tablespoons.Of fresh lemon juice.
Zest of two large lemons.
1/2 tsp.Of salt.
1¼ Cups.Of all-purpose flour.
FOR GLAZE:
1 Cup.Of powdered sugar.
2-3 Tablespoons.Of fresh lemon juice.
Zest of a medium lemon.
METHOD OF WORK:
Step 1 – To begin, you'll need to turn the temp in the oven up to 350 degrees F. A baking pan with dimensions of 8×8 or 9×9 inches should be lined with foil, with the sides of the foil protruding beyond the pan's borders. Prepare the aluminum foil by spraying it well with cooking spray and setting it aside.
Step 2 – Stir the butter and sugar together in a large bowl until they are completely mixed. Do not overmix the batter, as this will result in rougher brownies; instead, add the eggs one at a time and whisk in the mixture until it is almost completely mixed.
Step 3 – In the end, add the lemon juice, lemon zest, salt, and flour to a mixing bowl and whisk until a soft dough forms. then After the pan has been prepped, evenly distribute the batter within and level down the top.
Step 4 – Bake for about 22 to 25 minutes, being sure not to go over that amount of time, or until the top is firm and softly golden brown. Come to room temperature.
Step 5 – After it has cooled, you may prepare the glaze. To make a glaze that may be spread or poured, combine the powdered sugar and lemon juice in a small bowl and whisk until smooth and combined.
Step 6 – Pour on top of the bars, then spread it out. Add a little lemon zest for garnish. After allowing the glaze to be fully set, cut it into squares and serve.