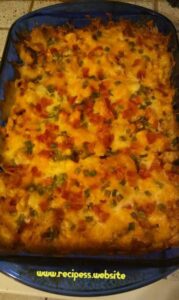 HOW TO MAKE LOADED BAKED POTATO CASSEROLE?
Loaded baked potato casserole, a combination of tender potatoes, shredded cheese, crumbled bacon, and the green onions in a baked casserole, leaving it overloaded with flavors. "Amazing comfort meal that is irresistible" this potato casserole can be prepared with leftover mashed potatoes, too!
What happens if you double the size of a loaded baked potato? That's what happens: you get a delectable casserole dish. This golden baked casserole is stuffed with mashed russet potatoes and topped with crispy bacon, butter, sour cream, and cheese for a decadent, bubbly side dish that can outshine any side dish.
INGREDIENTS NEEDED:
Cheddar cheese.
3 medium green onions, I sliced them.
1 Teaspoon.Of butter.
A pinch of sea salt and another pinch Of black pepper.
3 medium potatoes, I cut them into cubes.
2 tablespoons.Of olive oil.
3 chicken breasts, I cut into cubes.
1 Cup.Of crumbled bacon.
TO MAKE IT, FOLLOW THE STEPS BELOW:
Step 1:
I preheated the oven to 350 degrees Fahrenheit, after that, I laid out a few potatoes on a greased pan.
Step 2:
I spread over it the extra virgin olive oil and sea salt and stir to coat the potatoes, and I combined the cheddar with raw chicken and crumbled bacon.
Step 3:
I added two portion sizes of butter to the casserole and seasoned it with ground black pepper and sea salt.
Step 4:
I covered it with aluminum foil for about an hour and baked it for about 15 minutes.
Step 5:
And finally, I put the green onion on top.
It's not really healthy food, but it's certainly tasty comfort food. From the cheese to the bacon to the green onions, every bite is bursting with taste.
It's great for family get-togethers, seasonal dinners, and game-day gatherings!!!
I HOPE YOU'LL ENJOY IT!!