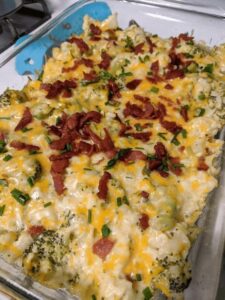 THE INGREDIENTS LIST:
1 large head cauliflower, cut into florets.
6 slices bacon, cooked and crumbled.
1 Cup.Of shredded cheddar cheese.
1/2 Cup.Of sour cream.
1/4 Cup.Of chopped green onions.
2 cloves garlic, minced.
2 Tbsp.Of butter, melted.
1/2 Tsp.Of salt.
1/4 Tsp.Of black pepper.
1/4 Tsp.Of paprika (optional, for a smoky flavor).
Fresh parsley, for garnish (optional).
PREPARATION:
1st Step
You should steam the cauliflower pieces until they are soft but still a little crunchy. This should take around 7–10 minutes to complete. Drain, then put it to the side.
2nd Step
Cook the bacon until it reaches the desired level of crispiness, and then break it up into pieces. Put to the side.
3rd Step
Combine the shredded cheddar cheese, sour cream, chopped green onions, minced garlic, melted butter, salt, and black pepper in a large basin for mixing. Continue to combine all of the ingredients until they are well combined.
4th Step
Incorporate the steamed cauliflower florets and crumbled bacon into the cheese mixture carefully and slowly. Check to see that the cauliflower is covered uniformly in the sauce.
5th Step
Place the mixture in a baking dish that has been buttered, and spread it out in equal layers. To provide a light smokey taste, paprika, if used, should be sprinkled on top.
6th Step
Bake in an oven that has been prepared to 350 degrees Fahrenheit (175 degrees Celsius) for about 20 to 25 minutes, or until the cheese has melted and is bubbling and the top is golden brown.
7th Step
To give a splash of color and an extra dimension of freshness, chopped fresh parsley may be used as a garnish if desired.