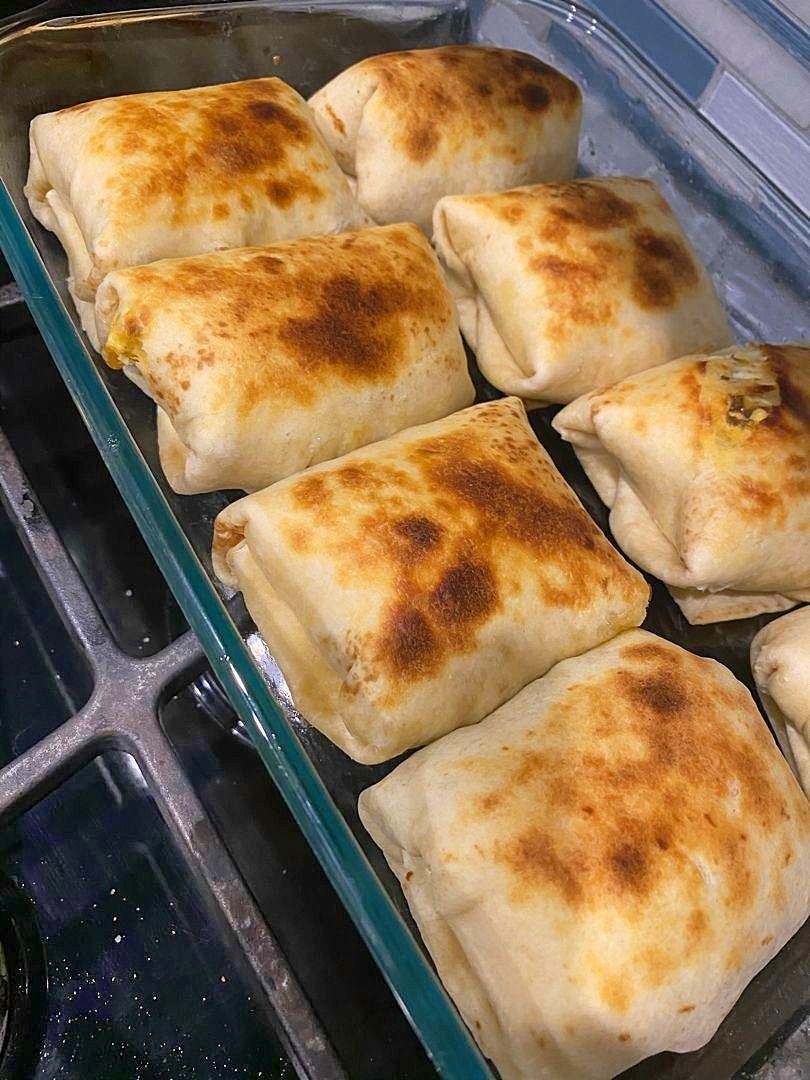 INGREDIENTS NEEDED:
FOR THE POCKET DOUGH:
2 Cups.Of all-purpose flour.
1 teaspoon baking powder.
1/2 teaspoon salt..
1/2 Cup.Of unsalted butter, cold and cube.
1/2 Cup.Of water.
FOR THE FILLING:
1 Pound.Of ground beef or turkey.
1 packet taco seasoning mix.
1 Cup.Of shredded cheddar cheese.
1 Cup.Of diced tomatoes.
1/2 Cup.Of chopped green onions.
1/4 Cup.Of sliced jalapeños (optional).
Sour cream and salsa for garnish.
PREPARATION METHOD:
1st Step
Mix together the dry ingredients (flour, baking powder, and salt) in a large bowl. Add the cold butter that has been cut into cubes and work it into the flour mixture using a pastry cutter or your fingers until the mixture resembles coarse crumbs.
2nd Step
While continuing to mix, gradually add water until the dough begins to come together. Make it into a ball, then cover it with plastic wrap and place it in the refrigerator for at least half an hour.
3rd Step
Cook the ground beef or ground turkey in a pan over medium heat until it is browned and cooked all the way through. If there is too much fat, drain it off. After adding the taco seasoning mix, be sure to follow the directions on the container for seasoning. Put to the side to cool off.
4th Step
Prepare a baking sheet by lining it with parchment paper and heating the oven to 375 degrees Fahrenheit (190 degrees Celsius). In the meanwhile, on a surface dusted with flour, roll out the cold dough to a thickness of approximately a quarter of an inch.
5th Step
Make circles out of the dough by using a glass or a circular cutter to make the cuts. Put a tablespoon of the meat mixture that has been allowed to cool onto one side of each circle, being sure to leave some room around the borders.
6th Step
On top of the meat, sprinkle it with shredded cheese, diced tomatoes, chopped green onions, and sliced jalapenos (if you're using them).
7th Step
Create a half-moon shape by folding the dough over the filling to cover it. First press the edges with your fingers to close them, then use a fork to crimp them and further tighten them.
8th Step
Bake the filled pockets for 20 to 25 minutes, or until they have a golden brown color, on a baking sheet that has been prepared.
9th Step
Take out of the oven and let it cool for a few minutes before serving. On top, add some dollops of sour cream, then sprinkle some salsa over the top.