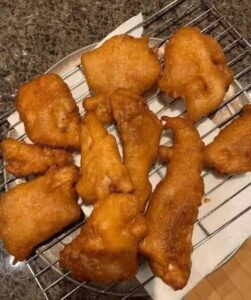 THE INGREDIENTS LIST:
1 Cup.Of all-purpose flour.
1 Tbsp.Of cornstarch.
1 Tsp.Of baking powder.
1/2 Tsp.Of salt.
1/2 Tsp.Of paprika.
1/2 Tsp.Of garlic powder.
1/4 Tsp.Of onion powder.
1/4 Tsp.Of white pepper.
1/4 Tsp.Of baking soda.
1 Cup.Of water.
PREPARATION METHOD:
1st Step
Whisk together the all-purpose flour, cornstarch, baking powder, salt, paprika, garlic powder, onion powder, white pepper, and baking soda in a medium mixing basin. Ensure that all dried ingredients are thoroughly combined.
2nd Step
While continuously whisking the mixture, gradually add the water. Continue whisking until the batter is smooth and lump-free. However, the consistency should still be pourable.
3rd Step
Rest the batter for approximately 10 to 15 minutes. This enables the ingredients to be incorporated thoroughly and aids in achieving a crispier texture when frying.
4th Step
Ensure that each piece of seafood (such as fish fillets, shrimp, or scallops) is uniformly coated with batter. Let any excess batter drain.
5th Step
in a deep sauté pan or fryer, heat oil to approximately 350°F (175°C). Place the battered seafood into the heated oil with care, taking care not to overcrowd the pan. Depending on the thickness of the seafood, fry until the batter turns a gorgeous golden brown, typically 3 to 4 minutes per side.
6th Step
Using a slotted spatula, remove the seafood from the oil and set it on a paper towel-lined plate to absorb excess oil.
RECIPE TIPS:
• For a crunchier texture, you can double-dip the seafood in the batter. After the first coating, let it sit for a minute, then dip again before frying.
• To add a unique twist, experiment with different seasonings or add a pinch of cayenne pepper for some extra heat.
• Serve your Long John Silver 's-style battered seafood with classic accompaniments like coleslaw, tartar sauce, and lemon wedges.