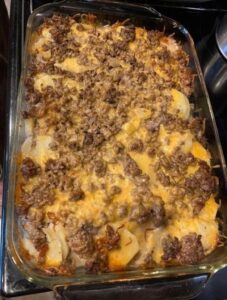 THE INGREDIENTS LIST:
1 lb.Of ground beef or your choice of ground meat.
4 large potatoes, peeled and thinly sliced.
1 medium onion, finely chopped.
2 cloves garlic, minced.
1 Cup.Of mixed vegetables (peas, carrots, corn).
1 (10.75 oz) can.Of cream of mushroom soup.
1/2 Cup.Of milk.
1 Cup.Of shredded cheddar cheese.
2 large spoon.Of butter.
Salt and pepper to taste.
Optional: fresh parsley for garnish.
INSTRUCTIONS:
1st Step
Brown the ground beef in a large pan over medium heat. Remove the fatty residue and keep it aside. And Butter should be melted in the same pan. Put in the garlic and onions. The onions should be cooked until they are transparent and aromatic.
2nd Step
Cook the mixed veggies for a few minutes, or until they begin to soften, in a pan. Put the ground beef back in the pan once it has been cooked and combine it with the veggies. Put in as much salt and pepper as you want.
3rd Step
Mix the milk and cream of mushroom soup together in a separate dish. Combine thoroughly. A smooth sauce is produced by doing so, which is used to hold the casserole together.
4th Step
Put a layer of potato slices in the bottom of a greased casserole dish. On top of the potatoes, spread the meat and vegetable combination.
5th Step
Cover the meat with half of the cream sauce mixture. Top with the remaining beef mixture and half of the shredded cheddar cheese, then add another layer of potatoes. Cover the meat with the remaining cream sauce and sprinkle the remaining cheese on top.
6th Step
Put the aluminum foil-covered casserole dish into the hot oven. Put the potatoes in the oven and bake for 45 to 50 minutes.
7th Step
Take off the foil and turn on the broiler. To get a golden brown and bubbling top, put the dish back in the oven for another 5 to 7 minutes.
8th Step
Please wait a few minutes before serving the dish. To add a splash of color, you may sprinkle on some freshly cut parsley as a garnish. Serve heaping helpings of the steaming meat and potato casserole. It's a healthy meal that won't leave you hungry.