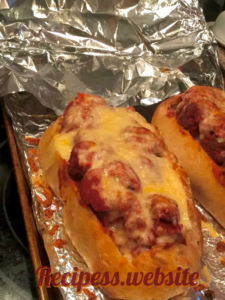 MEATBALL BOATS
Have you ever had a dish that was so mouthwateringly delicious, you couldn't even control it? and something you're even more surprised you made. One of those recipes is this one. You'll think you've died and gone to paradise when you prepare these Ultimate Meatball Boats.
Meatballs, marinara, and tons of cheesy bread boats are presented to perfection in this delicious meal!
There is no better way to enjoy a meatball sub than with these baked meatball sub-boats. They're simple, quick to prepare for a large group, and tasty. Sub-boats filled with meatballs are the perfect appetizer for a Super Bowl party since they are substantial, delicious, and easy to make!
INGREDIENTS:
2 Cups.Of marinara sauce.
Hoagie-rolls, I used four.
4 Tbsp.Of garlic butter.
1 Cup.Of shredded mozzarella cheese.
THE HOMEMADE MEATBALLS INGREDIENTS:
Lean ground beef, I used 500 grams.
A large-sized egg.
½ Cup.Of seasoned bread crumbs.
½ Tsp.Of Italian seasoning
½ Tsp.Of onion powder.
salt and pepper, TO UR LIKING.
METHOD OF WORK:
1st Step – To begin, combine all of the meatball ingredients in a large mixing basin. Form the mixture into 1′′ balls and set them on a baking sheet lined with parchment paper.
2nd Step – Next, you need to bake at 350°F for 20 minutes, just until the fully cooked.
3rd Step – Place the cooked meatballs in a saucepan with the marinara sauce and cook over low heat for 10 minutes, covered.
4th Step – Meanwhile, spread garlic butter on the center of each roll, and heat them under the broiler for approximately 3 minutes, until they are golden brown.
5th Step – At this step, the browned rolls should be arranged in a 9×13 baking dish, then place 4 meatballs in each bun and sprinkle with a little amount of sauce and cheese to finish.
6th Step – Cook under the broiler for 2-3 minutes, or until the cheese is melted. If preferred, serve with more sauce on the side for dipping.
With this recipe, we're making our homemade meatballs with marinara sauce from scratch, allowing us to keep a close eye on the flavor and ensuring that everything is absolutely excellent! Those delicious meatball boats are going to knock your socks off!