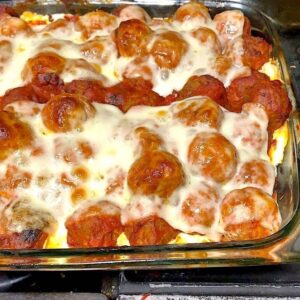 TO MAKE MEATBALL DUMP CASSEROLE, YOU WILL NEED THE FOLLOWING INGREDIENTS:
– 450 grams.Of frozen meatballs, thawed.
– A large can.Of pasta sauce.
– A medium can.Of diced tomatoes, drained.
– 1 Cup.Of water or beef broth.
– 2 Cups.Of uncooked pasta (such as penne or rotini).
– 1 Cup.Of shredded mozzarella cheese.
– 1/4 Cup.Of grated Parmesan cheese.
– 1 Tsp.Of dried Italian seasoning.
– 1/2 Tsp.Of garlic powder.
– Salt and pepper to taste.
– Fresh basil or parsley for garnish (optional).
PREPARATION:
1st Step
Set the temperature in the oven to 375 degrees Fahrenheit (190 degrees Celsius). Prepare a baking dish that is 9 by 13 inches by greasing it with cooking spray or butter.
2nd Step
Mix the spaghetti sauce, chopped tomatoes, water or beef broth, dry Italian seasoning, garlic powder, salt, and pepper in a large bowl. Add the ingredients in the order listed. Make sure the ingredients are well combined by giving the mixture a good stir.
3rd Step
Pour half of the sauce mixture into the baking dish that has been oiled, and then spread it out so that it covers the bottom evenly. To the dish, add the uncooked spaghetti and spread it out evenly over the sauce so that it covers the whole surface.
4th Step
On top of the spaghetti, arrange the meatballs that have been defrosted, forming a single layer with them.
5th Step
If there is any sauce left over, pour it over the meatballs and make sure they are well coated. There is no need to worry about the pasta not being thoroughly soaked since it will be cooked by the sauce while it bakes.
6th Step
Wrap the baking dish completely with aluminum foil, then place it in the oven to bake for forty minutes. After removing the foil, finish the casserole by topping it with the mozzarella and Parmesan cheeses that have been shredded and grated respectively.
7th Step
Place the dish back into the oven and continue baking for another 10 to 15 minutes, or until the cheese is melted and bubbling and the meatballs are cooked all the way through.
8th Step
After removing the casserole from the oven, allow it to sit for a few minutes at room temperature before serving. If you choose, you may top the dish with some fresh basil or parsley, and then serve it warm.