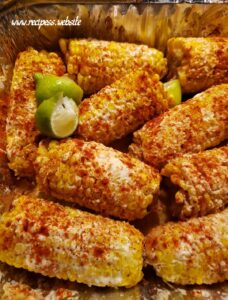 Street food in Mexico is known for the diversity of its dishes and flavors, today's recipe is Mexican street corn, super spicy, tangy, smoky, and incredibly delicious. Im sure that you will love it.
INGREDIENTS :
Corn.
1/2 cup of sour cream.
1 tablespoon of chili powder.
1/2 cup Cotija.
1 teaspoon of cumin.
3 tablespoons lime juice.
1/2 cup mayo.
1/2 teaspoon of salt.
Pinch of fresh cracked pepper.
INSTRUCTIONS :
STEP 1:
I combined sour cream, mayo, chili, lime juice, salt, and pepper, in a large mixing bowl.
STEP 2:
I cooked my corn and brushed it with prepared sauce and sprinkled with cotija cheese and chili powder.
STEP 3:
I baked corn for 10 minutes in the oven , at 350 degrees F.
Enjoy Your Mexican Street Corn.