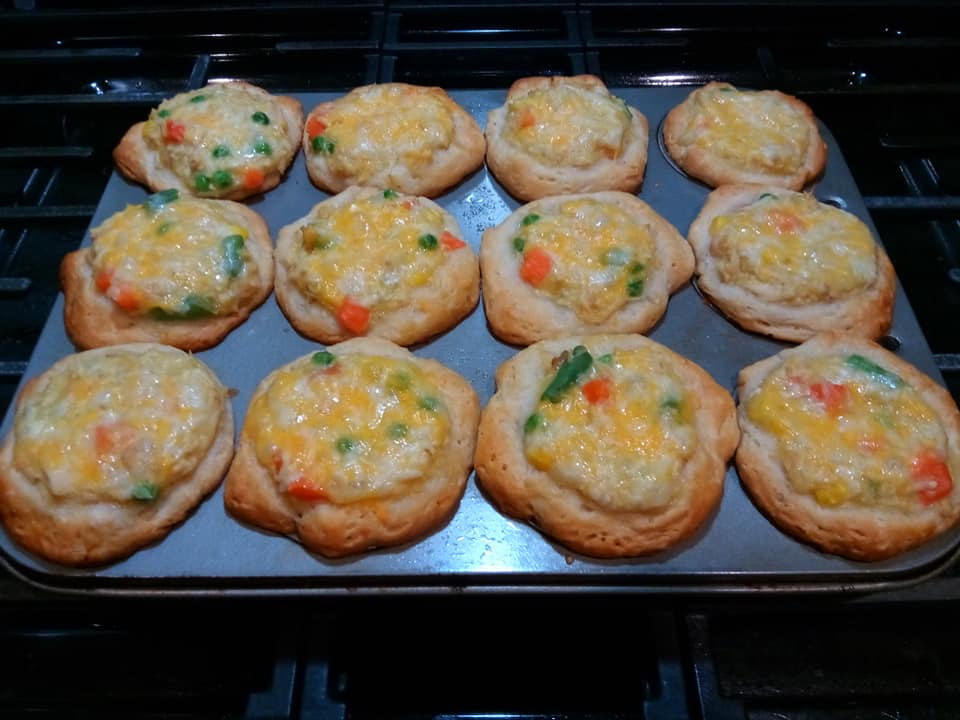 HOW TO MAKE MINI CHICKEN POT PIES
These mini chicken pot pies are really simple to make. They just need 4 simple ingredients, you guys! Also, the whole process takes no more than 30 minutes. If you serve them with a little salad on the side, you'll have a supper that's not only delicious but also easy to prepare throughout the week.
Remember when you were a child and you fantasized about what you would be like as a parent? I had it in my head that I was going to create all of my children's clothing by hand (ha! ), as well as prepare beautiful dinners for my family every single night.
But then a strange event took place. After I had my three children, I discovered that being a parent is about one million times more difficult than I had ever imagined it would be. When everyone comes home from school and daycare at the end of the day, things around here are kind of like a mess! Therefore, it's always exciting for me when I come across a dish that's not only easy but also suitable for children.
These little chicken pot pies give me the warm and fuzzy feeling that comfort food should. When it's being baked, the mixture of chicken, vegetables, and freshly baked biscuits produces an aroma that is just irresistible. And what about that impeccable crust with the golden brown color and the bubbling filling? Mmmm… they smell and taste amazing while they are still warm from the oven.
INGREDIENTS NEEDED:
3/4 Cup.Of chopped leftover chicken.
Cream of chicken soup; I use a medium can.
1 Cup.Of mixed frozen vegetables; defrosted. (peas, chopped carrots, corn, and green beans).
Refrigerated biscuit dough; I used 1 Pkg.
PREPARATION:
Step 1:
In a medium bowl, combine the chicken, the mixed veggies, and the cream of chicken soup. Stir the ingredients together well.
Step 2:
After dividing each of the biscuits, insert them, one by one, into the wells of a muffin tray that has been greased.
Step 3:
Start in the center of the dough and use your fingers to press down on it. Then, using your fingers, move the dough up the edges of each of the muffin compartments until it is as high as it can go.
Step 4:
Put some of the fillings in each of the individual sections (approximately 2 Tablespoons each).
Step 5:
Bake in an oven that has been warmed to 375 degrees Fahrenheit for 20 to 25 minutes, or until bubbling and golden brown.