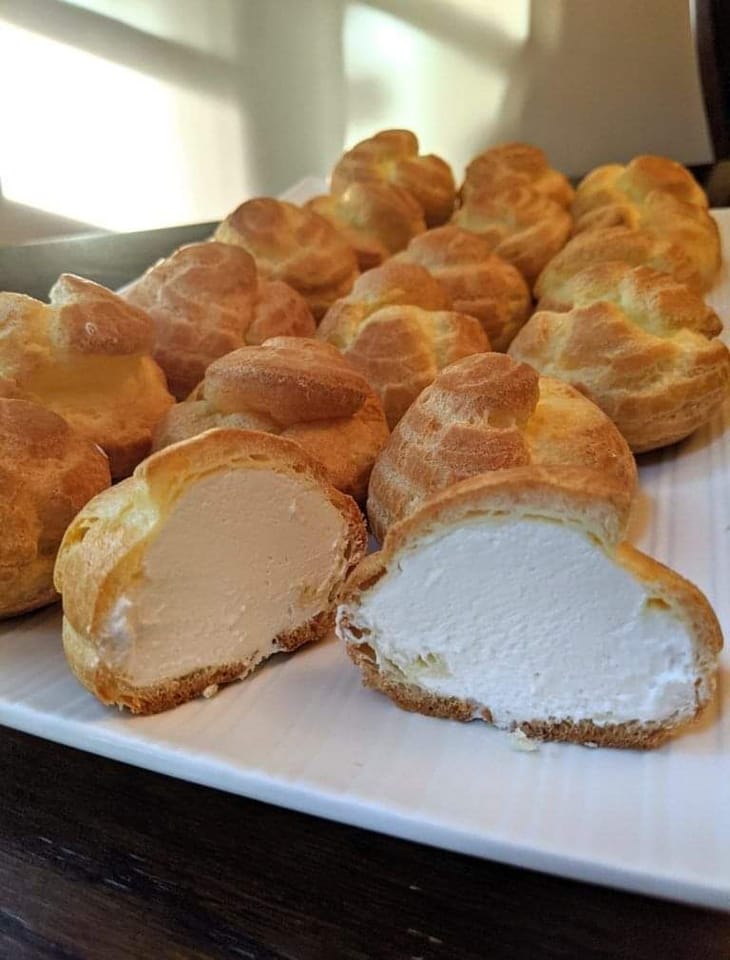 THE INGREDIENTS LIST:
FOR THE PASTRY:
1/2 cup unsalted butter (1 stick)
1 cup water
1 cup all-purpose flour
1/4 teaspoon salt
4 large eggs.
FOR THE FILLING:
2 cups heavy cream
1/2 cup granulated sugar
2 teaspoons pure vanilla extract
FOR THE CHOCOLATE GLAZE (OPTIONAL):
4 ounces semisweet chocolate, chopped
1/2 cup heavy cream
1 tablespoon unsalted butter
PREPARATION:
THIS IS HOW TO MAKE THE PASTRY:
1st Step
Heat the oven to 425 degrees Fahrenheit (220 degrees Celsius). Two baking trays are lined with parchment paper. Combine the butter and water in a medium saucepan. Bring the substance to a boil over medium-high heat.
2nd Step
Remove the saucepan from heat and rapidly incorporate in the flour and salt until a smooth dough forms. Return the saucepan to low heat and stir the dough for one to two minutes to gently cook it. Permit the mixture to chill for some time.
3rd Step
Add the eggs one by one, beating well after each. The dough will become lustrous and silky in texture.
4th Step
Transfer the mixture to a pastry bag with a large round tip or a bag with one corner snipped off. Allowing for expansion during baking, pipe dough rounds onto the prepared baking trays, leaving space between each.
5th Step
Bake the baking trays for fifteen minutes in a preheated oven. Reduce the oven temperature to 350°F (175°C) and bake the cream pastries for an additional 20 to 25 minutes or until golden brown and swollen.
6th Step
Remove the cream pastries from the oven and place them on a wire rack to cool completely.
WHEN IT COMES TO THE FILLING:
1st Step
Whip the heavy cream, sugar, and vanilla extract in a refrigerated mixing basin until firm peaks form. Be cautious not to overbeat.
2nd Step
Cut the chilled cream pastries in half horizontally and use a spoon or pastry bag to fill them with the whipped cream.
FOR THE CHOCOLATE GLAZE (WHICH IS OPTIONAL):
1st Step
Combine the grated semisweet chocolate, heavy cream, and butter in a microwave-safe receptacle. Microwave the chocolate and butter in 20-second intervals, stirring after each, until the mixture is completely melted and uniform.
2nd Step
Fill cream puffs to the top, then dip the tops into the chocolate glaze. Place the cream pastries with a chocolate glaze in the refrigerator for a brief time to allow the chocolate to solidify.
3rd Step
As a delectable delicacy, serve Mom's Famous Cream Puffs. They are ideal for special occasions and as a delectable delight for any day.