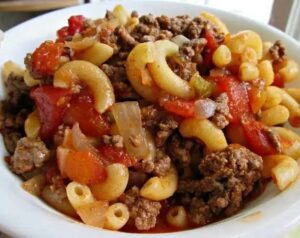 HOW TO MAKE MOM'S GOULASH RECIPE: A HEARTY AND NOSTALGIC COMFORT DISH
Mom's Goulash is a timeless classic that has graced family tables for generations. This comforting dish combines tender chunks of beef, hearty vegetables, and a rich tomato-based sauce, creating a warm and satisfying meal that evokes feelings of nostalgia.
Mom's Goulash is a heartwarming dish that embodies the essence of home-cooked comfort food. With its tender beef, savory sauce, and the addition of pasta, it's a wholesome meal that's both satisfying and delicious. Whether you're enjoying it on a chilly evening or sharing it with friends and family, this timeless recipe will evoke warm memories and fill your heart and stomach with joy. So, savor the rich flavors and the love that goes into each bite of your homemade Mom's Goulash.
THE INGREDIENTS LIST:
• 2 Lbs.Of beef stew meat, cubed.
• 2 Tbsp.Of vegetable oil.
• 1 large chopped onion.
• 2 garlic cloves – minced.
• 2 bell peppers (green and red), chopped.
• 2 Cups.Of diced tomatoes (canned or fresh).
• 2 Cups.Of beef broth.
• 2 Tsp.Of paprika.
• 1 Tsp.Of caraway seeds (optional).
• Salt and pepper to taste.
• 2 Cups.Of elbow macaroni or your choice of pasta.
For Ingredients And Complete Cooking Instructions Please Head On keep  on Reading  (>)