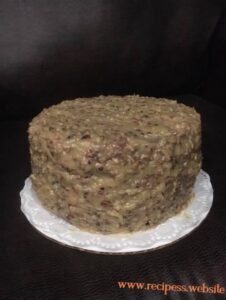 My homemade German chocolate cake. This cake weighs 8 pounds. It's a three layer cake with a double recipe of Icing.
I use the Bakers German chocolate cake recipe. You can Google that.
My icing is
1 cup of butter
2 cans of sweetened condensed milk
6 egg yolks
Put those first three ingredients in a
heavy pot. Cook on medium till thick.
Stirring constantly.
Two teaspoons of vanilla
3/4 cup of coconut
2 1/2 cups of pecans
After thickening take last three ingredients put in pot stir well.
Enjoy.