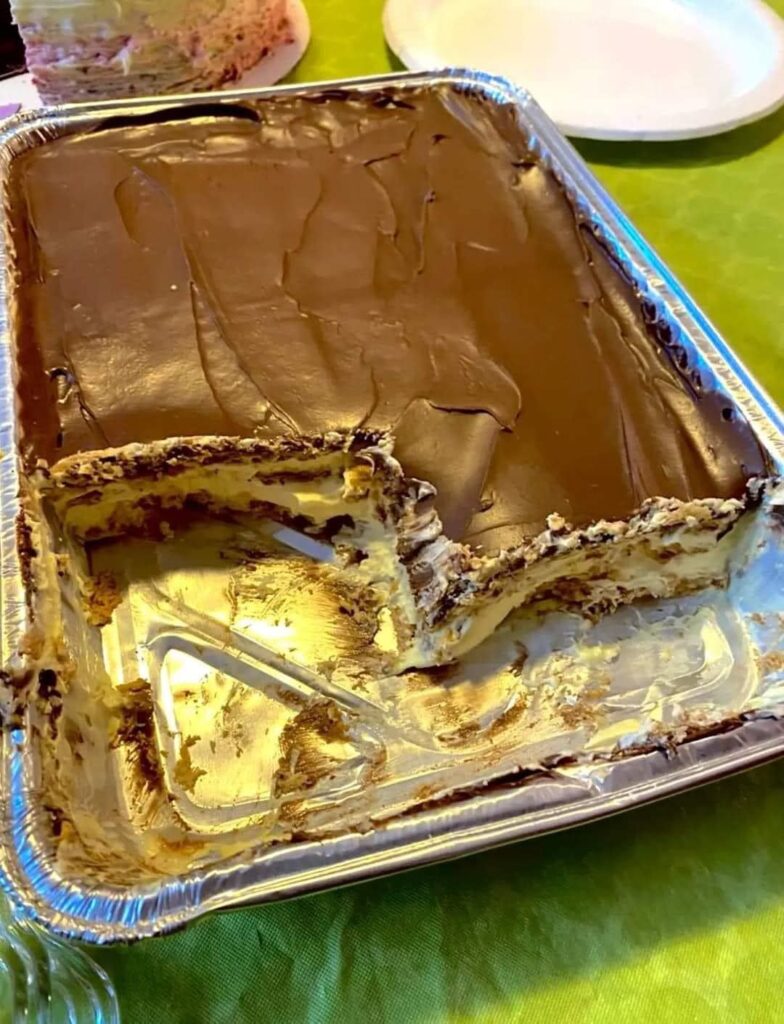 How To Make No bake Chocolate Eclair Cake
Preparation Time: Approximately 20-30 minutes.
Total Time: After assembling the cake, it needs to chill in the refrigerator for at least 30 minutes to an hour to allow the pudding to set.
Servings: The number of servings will depend on how large you cut the pieces, but this recipe is typically cut into 12 servings when using a 9 x 13-inch baking dish.
Welcome foodies!! Prepare to embark on a culinary journey that promises a symphony of flavors and textures with our No-Bake Chocolate Eclair Cake!!
This exquisite dessert marries the ease of preparation with the indulgence of a classic éclair, resulting in a treat that will enchant your taste buds and captivate your guests. Omg!! Picture layers of dreamy vanilla pudding lovingly blended with a velvety whipped topping, and then gently nestled between sheets of crispy graham crackers. This harmonious combination is the foundation of our no-bake masterpiece, designed to impress without the hassle of using an oven. But the pièce de résistance is undoubtedly the crowning glory: a luscious coat of decadent chocolate frosting that gracefully blankets the top layer, promising a sweet and satisfying finish to every bite.
What sets this dessert apart, aside from its irresistible taste, is its flexibility. Yes!! Perfect for both novice and experienced bakers, this recipe requires no baking skills whatsoever. It's a testament to the culinary magic that can be achieved with a few simple ingredients and a bit of patience.
So, whether you're a seasoned dessert aficionado searching for a hassle-free masterpiece or a beginner eager to create a stunning dessert, this No-Bake Chocolate Eclair Cake is the answer. A dessert that blends simplicity, elegance, and scrumptiousness, all in one. Get ready to savor a sweet symphony that's bound to leave a lasting impression on your taste buds and guests alike.
Ingredients:
Two packages (3.5 ounces each) of instant vanilla pudding mix.
One container (8 ounces) of thawed whipped topping (such as COOL WHIP).
3 cups of milk.
Two sleeves of graham cracker squares.
One tub (16 ounces) of chocolate frosting.
For Ingredients And Complete Cooking Instructions Please Head On keep on Reading (>)