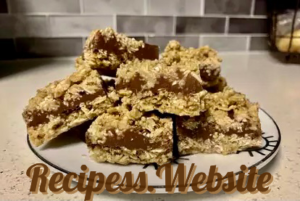 NO-BAKE CHOCOLATE OAT BARS
Even if you're tired of cooking and baking, it doesn't mean you've had enough sweets. And just because you're trying to cut down on the sugary treats doesn't mean you have to give up dessert entirely. In both cases, what is the best solution? Our No-Bake Chocolate Oat Bars are a hit! When it comes to chocolate oatmeal no-bake bars, you can't stop eating them since they melt in your mouth!
Obviously, we aren't claiming that these bars are some kind of healthy meal, but you will feel better about eating them than you would about eating all of the cookies and trifles from the holidays. In addition to adding a delightful crunch, the chocolate drizzle adds a perfect amount of sweetness to these cookies! Is it possible to make things even better? Nothing more complicated than mixing them together and putting them in the refrigerator. Allow us to show this easy dessert, and then continue reading for the entire recipe so you can make them yourself!
THE INGREDIENTS LIST:
Softened butter, I used two sticks.
110 grams.Of brown sugar.
A small spoon.Of vanilla extract.
Quick-cooking oats, I used 3 cups.
Semisweet chocolate chips, you'll need approx. 1 cup.
1/2 Cup.Of peanut butter.
PREPARATION:
Step 1 – First, you need to prepare a 9-by-9-inch square baking pan with cooking spray.
Step 2 – Melt the butter in a large saucepan over medium heat until it is smooth. Brown sugar and vanilla extract should be added at this point.
Step 3 – Add in the oats and mix well. Cook for 2 to 3 minutes over low heat, stirring constantly until the ingredients are thoroughly combined.
Step 4 – In the bottom of the prepared pan, press half of the mixture. Half of the mixture should be reserved for topping.
Step 5 – In the meanwhile, melt the chocolate chips and peanut butter together in a small heavy saucepan over low heat, stirring constantly, until smooth and completely melted.
Step 6 – Then, using a knife or a spoon, spread the chocolate mixture over the crust in the pan until it's uniformly coated.
Step 7 – Using the leftover oat mixture, crumble it over the chocolate layer, gently pushing it in.
Step 8 – Refrigerate for 2 to 3 hours or overnight after covering with plastic wrap. Make sure the bars are at room temperature before cutting them into bars.
Yum! There's no need to turn on the oven for this recipe, which is delicious and simple. Furthermore, if you want to prepare a large number of bars ahead of time, you may entirely freeze them! Just be careful to bring them back to room temperature before serving them out!