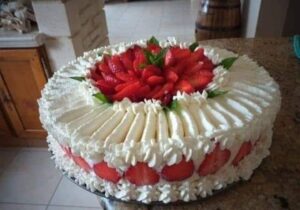 HOW TO MAKE NO BAKE STRAWBERRY SHORTCAKE
I have a sick obsession with sweets made with fruit, and this no-bake strawberry shortcake has to be one of the best there is. It is light, breezy, and nostalgic for summer, and it tastes amazing.
The dessert we are going to make today just so happens to be one of those cool and reviving treats that everyone adores! It resembles a lasagna with layers of cream-filled sandwich cookies, vanilla pudding, fresh strawberries, and cool whip.
The preparation of this Strawberry Shortcake without the use of the oven takes a little bit of time but is otherwise rather simple. It's quite hard to say no to, what with the combination of cookies and cream and strawberries in it. If you like strawberry confections as much as I do, then you are going to really adore this recipe. It's the perfect dessert for any get-together with the family!
THESE ARE THE INGREDIENTS REQUIRED FOR THIS RECIPE:
Instant vanilla pudding; I used 2 small boxes.
1/2 Cup.Of strawberry juice.
3 Cups.Of whole milk.
1 Teaspoon.Of vanilla extract.
Vienna Fingers cookies; you'll need 2 Pkgs.
One pound.Of fresh strawberries – chopped.
2 Cups.Of heavy whipping cream.
1/2 Cup.Of powdered sugar.
TO MAKE TODAY'S NO BAKE STRAWBERRY SHORTCAKE FOLLOW THE STEPS AS DIRECTED BELOW :
First Step
Combine the pudding and milk with a whisk in a bowl of medium size. Set aside.
Second Step
After dipping Vienna fingers in strawberry juice, put them on a 9×13-inch plate in a single layer.
Third Step
On top of the cookies, spread one-half of the pudding mixture. Place a third of the strawberries on the topping.
Fourth Step – Put another layer of lady's fingers, the remaining pudding, and a third of the strawberries on top of the dessert.
Fifth Step
Whip the heavy cream and powdered sugar together in a bowl until the mixture becomes thick.
Sixth Step
Spread it on top of the strawberries, then garnish it with the remaining berries. Chill the dish for at least two to three hours before serving. ENJOY!