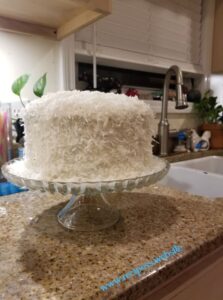 Cake:
2 1/2 cups cake flour
2 teaspoons baking powder
1/2 teaspoon baking soda
1 teaspoon salt
3/4 cup unsalted butter softened to room temperature
1 2/3 cups granulated sugar
5 large egg whites at room temperature
1/2 cup sour cream at room temperature
2 teaspoons pure vanilla extract
1 teaspoon coconut extract
1 cup canned coconut milk at room temperature
1 cup sweetened shredded coconut
Frosting:
1 cup unsalted butter softened to room temperature
1 cup cream cheese softened to room temperature
5 cups powdered sugar
2 Tablespoons canned coconut milk
1/2 teaspoon pure vanilla extract
1/2 teaspoon coconut extract
1/8 teaspoon salt
2 cups sweetened shredded coconut
Cake:
Preheat oven to 350°F. Grease three 9-inch cake pans, line with parchment paper, then grease the parchment paper.
Whisk the cake flour, baking powder, baking soda, and salt together. Set aside.
Using a handheld mixer, beat the butter and sugar together on medium-high speed until smooth and creamy, about 2 minutes. Beat in the egg whites until combined, then add the sour cream, vanilla extract, and coconut extract. Beat until combined. With the mixer on low speed, slowly add the dry ingredients and coconut milk. Beat on low speed until combined, then add the shredded coconut. Whisk it all by hand to make sure there are no butter lumps at the bottom of the bowl. The batter will be slightly thick.
Pour batter evenly into cake pans. Tap the pans several times on your counter to level the batter.
Bake for around 21-23 minutes or until the cakes are baked through. To test if done, insert a toothpick into the center of the cake. If it comes out clean, it's done.
Allow cakes to cool completely in the pans set on a wire rack. The cakes must be completely cool before frosting and assembling.
Frosting:
In a large bowl using a hand-held mixer, beat the butter and cream cheese together on medium speed until creamy and smooth, about 2 minutes.
Add powdered sugar, coconut milk, vanilla extract, coconut extract, and salt with the mixer running on low. Increase to high speed and beat for 3 minutes. Taste the frosting. Add more powdered sugar if frosting is too thin, more coconut milk if frosting is too thick, or an extra pinch of salt if frosting is too sweet.
Using a large flat knife, slice a thin layer off the tops of the cakes to create a flat surface.
Evenly cover the top of each cake with about 1 and 1/2 cups of frosting.
Spread the remaining frosting all over the top and sides.
Sprinkle coconut on top of the cake and apply it to the sides.
Enjoy.