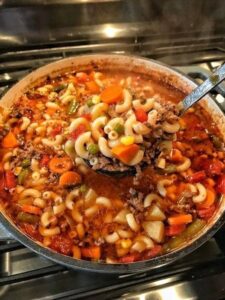 INGREDIENTS NEEDED:
– 500 grams.Of ground beef (preferably lean).
– 1 large onion, finely chopped.
– 2 garlic cloves, minced
– 1 bell pepper, diced (red or green).
– 1 large can.Of diced tomatoes.
– 1 large can.Of tomato sauce.
– 2 Cups.Of elbow macaroni or any small pasta
– 2 Cups.Of beef broth.
– 1 Tsp.Of paprika.
– 1/2 Tsp.Of dried oregano.
– 1/2 Tsp.Of dried basil.
– Salt and freshly ground black pepper, to taste.
– Grated Parmesan cheese (optional, for serving).
PREPARATION:
1 – Brown the minced beef in a large skillet or Dutch oven over medium-high heat, dividing it up as it cooks. Drain any excess fat from the beef and set it aside.
2 -Add the finely chopped onion and minced garlic to the same pan. Typically, it takes 2 to 3 minutes for the onions to become translucent and aromatic while being sautéed.
3 – Stir in the diced bell pepper and continue to simmer for another 2-3 minutes until the pepper begins to soften.
4 – Add the can of diced tomatoes and tomato sauce to the skillet. Add paprika, dried oregano, dried basil, salt, and freshly ground black pepper for seasoning. Combine all ingredients to create a delectable, savory base.
5 – In a skillet, combine the beef bouillon and the prepared minced beef. Stir thoroughly to integrate the ingredients.
6 – Cover the pan and reduce the heat to a low setting. Allow the sauce to simmer for 15 to 20 minutes, or until the pasta is tender and the flavors have merged. Periodically stir to prevent adhering.
7 – Remove the Old-Fashioned Goulash from the heat when it is finished. Serve it heated in individual dishes or as a family meal. If desired, sprinkle a liberal amount of grated Parmesan cheese on top of each serving for an additional layer of richness and flavor.