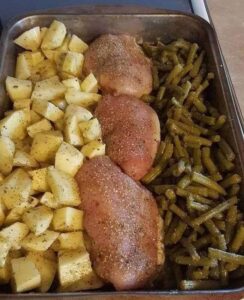 HOW TO MAKE ONE PAN CHICKEN POTATOES AND GREENS
Because it is so simple to make and tastes so good, this traditional one-pan baked chicken dish with potatoes, green beans, and Italian spices is likely to become a staple in your dinner rotation.
This dish may not be anything special, but if you're looking for something that's easy to make, doesn't need much preparation, can be thrown together in a short amount of time, has a delicious taste, and is satisfying, this is the one you want! I can't remember where I discovered this recipe, but I've been using it for years if I don't feel like putting in a lot of work in the kitchen but still want to prepare a wonderful home-cooked supper for my family. Thank you, to whoever came up with it! However, I also cook it just because both of us like it.
When it comes to dinnertime, this dish is always a possibility for me since I pretty much always have all of the ingredients on hand. It takes very little time to prepare… I'm talking about a maximum of five to ten minutes here. Simply slice up some potatoes, add some chicken tenderloins and frozen green beans to a baking dish, coat everything with melted butter, sprinkle on some dried herbs and spices, cover, and bake at 400 degrees until the potatoes are mushy and the chicken is cooked through.
The oven will finish the rest of the work for you over the next hour. While it is cooking, the whole home will be filled with a delicious smell. Everything, including the chicken, the potatoes, and the beans, will become very tasty as a result of the butter and spices that were used. The chicken will become juicy and moist.
THE INGREDIENTS LIST:
cooking spray
Chicken tenderloins; I used 800 grams.
Yukon gold potatoes; I used 500 grams cubed.
A bag.Of frozen green beans.
½ Cup.Of melted butter.
¾ Tsp.Of garlic powder
¾ Tsp.Of onion powder
1½ Tsp.Of dried oregano
¼ Tsp.Of dried basil
¾ Tsp.Of dried parsley
A pinch.Of dried thyme.
A pinch.Of celery seeds.
1¼ Tsp.Of kosher salt.
¼ Tsp.Of black pepper.
PREPARATION:
1st Step
To begin, prepare a baking dish measuring 9 by 13 inches and coat it with cooking spray, and set the temp in the oven to 350 degrees Fahrenheit.
2nd Step
Place the chicken tenderloins in the baking dish so that they form a single layer along the middle of the dish (longways).
3rd Step
Place the potatoes equally along one side of the dish and the green beans evenly down the other side of the dish, making sure to expose as much of the chicken as possible in the dish's center.
4th Step
Spread the chicken, potatoes, and green beans out equally on the baking sheet before adding the melted butter.
5th Step
Mix all of the spices together in a small bowl, then sprinkle them over the chicken, potatoes, and green beans in an equal distribution.
6th Step
Wrap the baking dish completely with aluminum foil and set it aside.
7th Step
Bake for one hour, or until the chicken and potatoes are fully cooked through and soft, whichever comes first.
8th Step
To finish, serve immediately with your favorite salad.