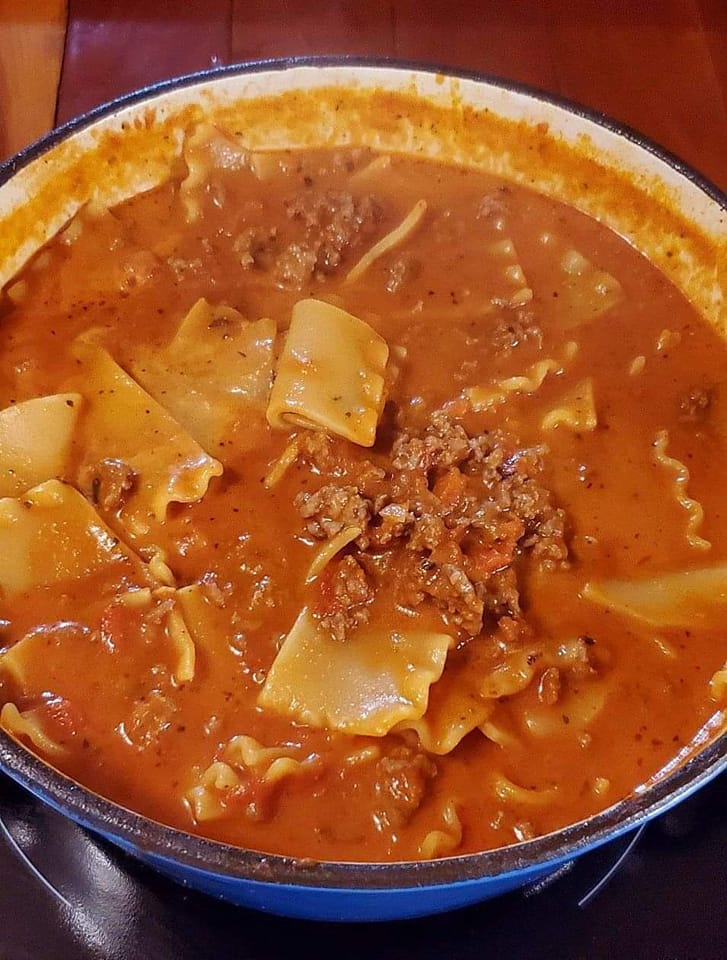 THE INGREDIENTS LIST:
1 Lb.Of ground beef.
1 large finely chopped onion.
2 cloves garlic, minced.
A (15 oz) can.Of crushed tomatoes.
A (15 oz) can.Of diced tomatoes.
4 Cups.Of beef broth..
1 (6 oz) can.Of tomato paste
2 Tsp.Of dried basil.
2 Tsp.Of dried oregano.
1 Tsp.Of dried thyme.
1 Tsp.Of dried rosemary.
Salt and black pepper to taste.
1 1/2 Cups.Of lasagna noodles, broken into pieces.
1/2 Cup.Of ricotta cheese.
1/2 Cup.Of shredded mozzarella cheese.
Fresh basil leaves for garnish (optional).
PREPARATION:
1. Over medium heat, brown the ground beef, crumbling it as it cooks, in a big soup pot or Dutch oven. Remove any extra fat.
2 – To the saucepan containing the meat, add the minced garlic and finely sliced onion. 3 to 4 minutes of sautéing should be plenty to get the onions transparent.
3 – Add the tomato paste, beef broth, diced tomatoes, and crushed tomatoes.
4 – Include the dried rosemary, oregano, thyme, and basil. To taste, add salt and black pepper to the food. The mixture should slowly come to a boil.
5 – Lower the heat, cover it, and simmer it for 15 to 20 minutes to let the flavors merge.
6 – Add the broken lasagna noodles and boil for an additional 10 to 12 minutes, depending on how soft you want the noodles to be.
7 – Combine the ricotta cheese and shredded mozzarella cheese in a small bowl.
8 – Spoon the soup into each person's dish. Add a spoonful of the cheese mixture to the top of each dish. For a splash of color and extra freshness, you might optionally garnish with fresh basil leaves.
This culinary wonder, known as One Pot Lasagna Soup, has all of the reassuring tastes of lasagna in a manner that only requires one pot to prepare. The combination of the soft pasta, the meat that has been seasoned, and the creamy cheese results in an experience that is both gratifying and savory. This recipe is likely to be a favorite regardless of whether it is consumed as a quick weeknight supper or if it is shared with loved ones on a winter evening. Enjoy the flavor of Italian comfort cuisine in a fresh and delectable manner by embracing a contemporary take on a time-honored favorite and giving yourself permission to try something new.