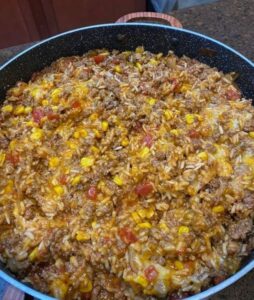 HOW TO MAKE ONE POT MEXICAN RICE CASSEROLE
This One Pot Mexican Beef and Rice Skillet is a straightforward dish for a supper that only requires one pot, and it is flavored with Mexican spices. It's a recipe that can be prepared in less than half an hour, yet everyone in the family will go crazy for it. The fact that you may top this dish with whichever toppings you like most, whether they cilantro, non-fat Greek yogurt, sliced tomatoes, or salsa, is the part of this recipe that I like the most.
This dish can be frozen successfully. You may keep leftovers in the refrigerator for up to three days in an airtight container, or you can freeze them for up to two months. So when you are ready to serve it, let it thaw in the refrigerator overnight and then reheat it.
THE INGREDIENTS LIST:
1 Pound.Of ground beef; 96% lean.
A large diced onion.
2 Tsp.Of minced garlic.
1 Cup.Of instant dry brown or white rice.
2 Cups.Of beef or vegetable broth.
A large can.Of black beans.
Canned tomatoes and green chilies; I used a 10-oz can.
1 Cup.Of frozen corn kernels – thawed.
1/4 Tsp.Of smoked paprika.
1/2 Tsp.Of chili powder.
1/2 Tsp.Of cumin.
1/4 Tsp.Of black pepper.
1/2 Tsp.Of salt.
PREPARATION:
1st Step
Spray a big skillet with cooking spray that prevents sticking. Cook lean ground beef in a skillet over medium heat for about three to five minutes, or until the meat is no longer pink and has turned brown. Crumble into small pieces. Remove all of the excess fat.
2nd Step
After adding the onion and garlic, continue to cook until the onion is soft, season with chili powder, cumin, smoked paprika, salt, and pepper, and give everything a good stir.
3rd Step
Mix in the rice, a cup and a half of either beef or vegetable broth, black beans, diced tomatoes with green chilies, and corn. Stir well.
4th Step
Bring the liquid to a boil. Rice is considered cooked after it has been allowed to simmer for 15 to 18 minutes with the lid on the skillet and the heat turned down.
5th Step
If more liquid is required, add another half cup's worth of broth. Take note that, unlike white rice, brown rice takes significantly longer to cook and often requires additional liquid while doing so.
6th Step
Remove from heat and top with the toppings of your choice, such as shredded cheese, cilantro, non-fat Greek yogurt, salsa, diced tomatoes, or jalapeno slices.