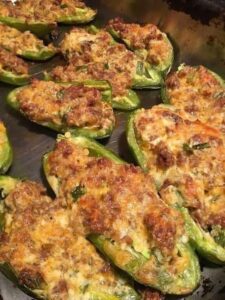 INGREDIENTS YOU'LL NEED:
4 large bell peppers (any color you like).
1 Lb.Of boneless, skinless chicken breasts, diced.
1 Cup.Of cooked quinoa.
1 Cup.Of cherry tomatoes, halved.
1 Cup.Of shredded mozzarella cheese.
1/2 Cup.Of grated Parmesan cheese.
1/4 Cup.Of fresh basil, chopped.
2 cloves garlic, minced.
1 Tbsp.Of olive oil.
Salt and pepper to taste
PREPARATION METHOD:
1st Step
To get started, heat your oven to 375 degrees Fahrenheit (190 degrees Celsius). In the meantime, remove the seeds and membranes from the bell peppers and chop the tops off of the peppers. Put them on a dish that is intended for baking.
2nd Step
In a large skillet, heat the olive oil over medium heat. After adding the chicken cubes and cooking them until they are no longer pink, season them to taste with salt and pepper. Put to the side.
3rd Step
Mix the quinoa that has been cooked, the cherry tomatoes, the mozzarella cheese, the Parmesan cheese, the fresh basil, and the minced garlic in a large mixing basin. Mix everything together once you've added the cooked chicken.
4th Step
Fill each bell pepper almost to the brim with the chicken and quinoa mixture, and then gently push the mixture down with the back of a spoon. Bake the peppers for 25 to 30 minutes with the baking dish covered in aluminum foil, or until the peppers are soft.
5th Step
Take off the aluminum foil, and then top each filled pepper with some extra grated Parmesan cheese. Place the casserole back into the oven and bake it uncovered for a further ten minutes, or until the cheese is golden brown and bubbling.
6th Step
Before serving, make sure the peppers have had a chance to somewhat cool down. If you so want, garnish with some fresh basil.