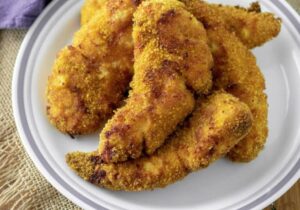 PARMESAN-CRUSTED AIR FRYER CHICKEN TENDERS
Chicken tenders made in an air fryer have a golden crisp outside and a juicy, flavorful inside thanks to the use of parmesan cheese and garlic. They are wonderful for a fast meal at lunch or supper, or even as a snack.
One of the most delicious ways to prepare chicken is to make Air Fryer Parmesan Chicken Tenders. It is juicy, flavorful, crispy, and good for you all at the same time. It's the greatest there is out of everything! Another great thing about this recipe is how quickly it can be prepared. I'm all for things that can be done in a hurry and are good for you.
Because of how delicious they are, you will find yourself reaching for them again. You should serve these delectable bites with the dipping sauce of your choice. To spice things up, try something brand new, or even two or three different sauces. They are so simple to prepare and taste so fantastic that you will want to make them again and over again.
INGREDIENTS NEEDED:
Chicken tenders (boneless); I used 1¼ pounds.
½ Cup.Of white flour.
6 Tbsp.Of olive oil; you can use melted butter instead.
3 Tsp.Of minced garlic.
1 Tsp.Of dried basil.
¼ Tsp.Of smoked paprika.
1 Cup.Of Panko Breadcrumbs.
⅔ Cup.Of Parmesan cheese – freshly grated.
PREPARATION:
1st Step – Remove excess fat from the tenders. Put three bowls on the table. To one of the bowls, add the white flour, approximately a quarter teaspoon of pepper, and about half a teaspoon of salt, then whisk to combine.
2nd Step – Put the minced garlic and olive oil or butter in the next bowl. Stir. Mix in the basil, paprika, Panko, and Parmesan cheese at the end.
3rd Step – Next, dip the chicken tenders in the flour mixture, then in the garlic oil, and last, in the panko mixture, making sure that each piece is coated equally and completely.
4th Step – Put the chicken tenders into the basket of the air fryer and turn it on.
5th Step – Cook the chicken tenders at 400 degrees for 9 minutes, turn them over, and continue cooking for another 8-9 minutes, or until the chicken reaches an internal temperature of 165 degrees Fahrenheit.
6th Step – Take them out of the air fryer, and serve them right away with your favorite dipping sauce!
HAVE A FABULOUS DAY <3